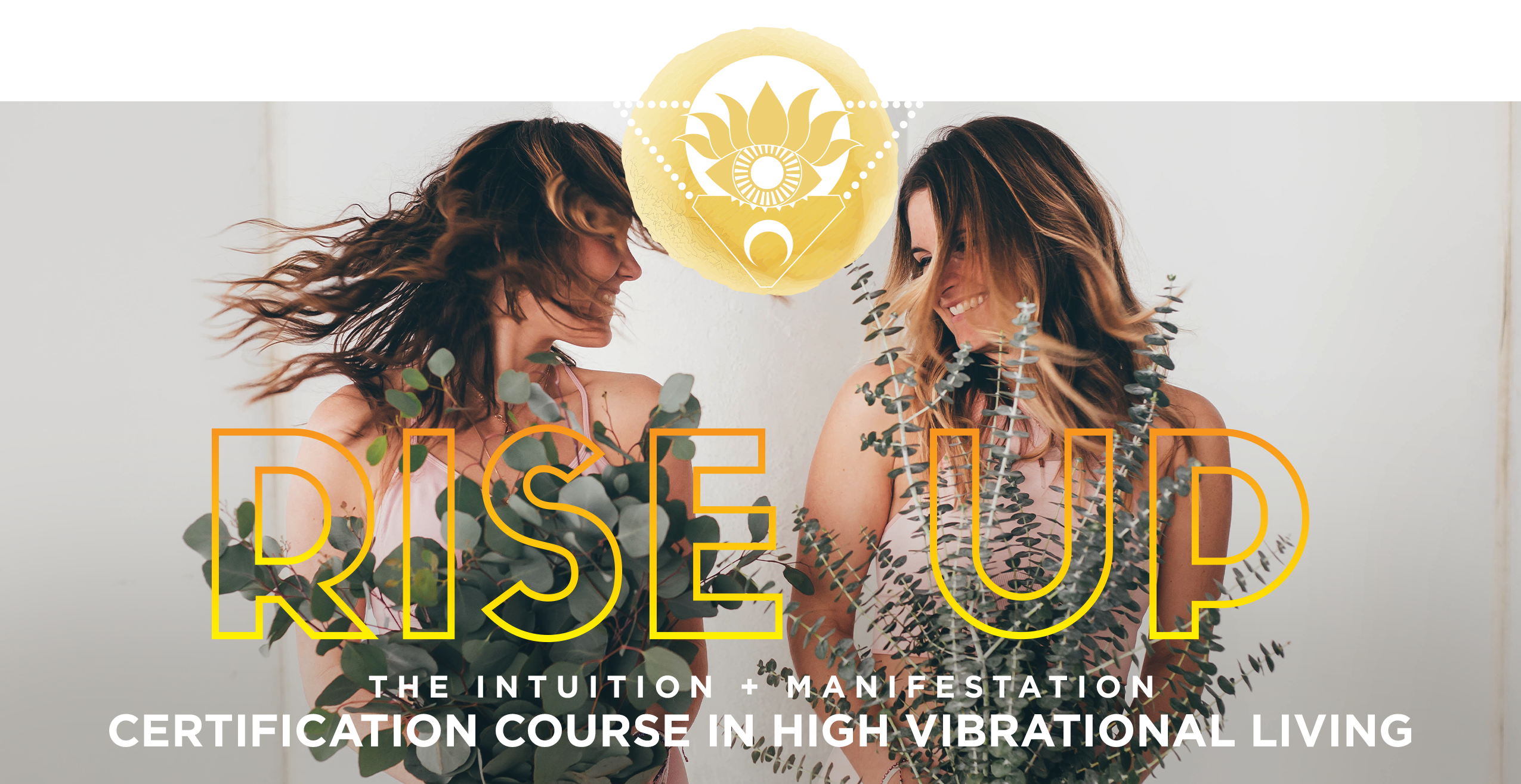 Unleash your inner fire and break the mold that's been holding you back from living fully…
Your Epic Dream Life
Apply Now
Are you done with your old patterns and ready to break the cycle you've been living and ACTUALLY learn the steps & tools in intuitive living and manifestation that are PROVEN to work?
If you found yourself here, it's because you've been yearning for change. No matter how small. You desire WAY more than you're currently attracting but everything you've tried hasn't stuck. You're ready to experience complete and utter bliss, and access your HOLY SH*T LIFE!
YOU DESERVE TO HAVE MENTORS AND RECEIVE GUIDANCE AND SUPPORT ON YOUR PATH! YOU KNOW IT'S ALREADY INSIDE OF YOU AND HEADED YOUR WAY BUT YOU JUST NEED THE STEPS + SUPPORT TO GET YOU THERE. AND INSIDE RISE UP, WE'LL SHOW YOU HOW.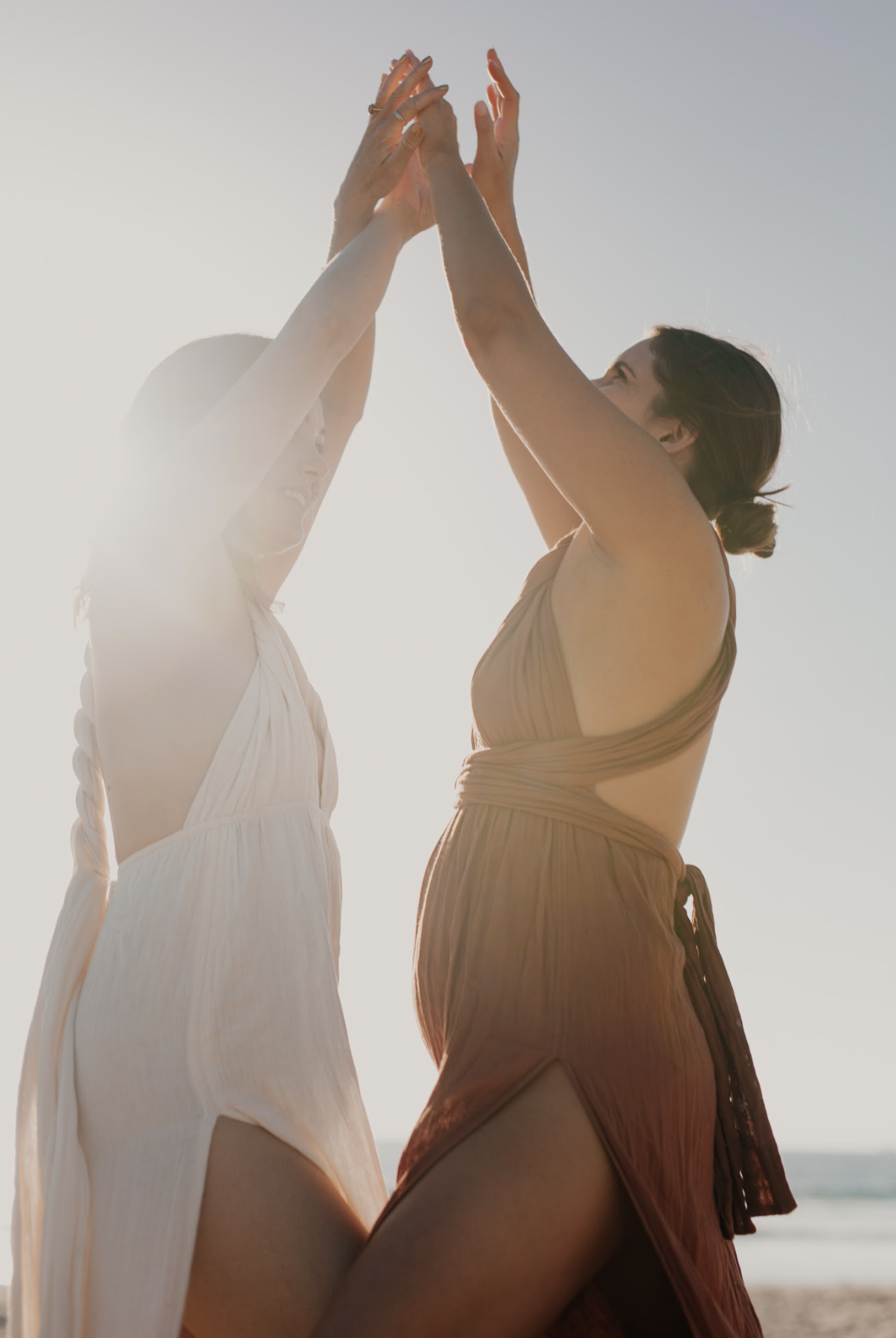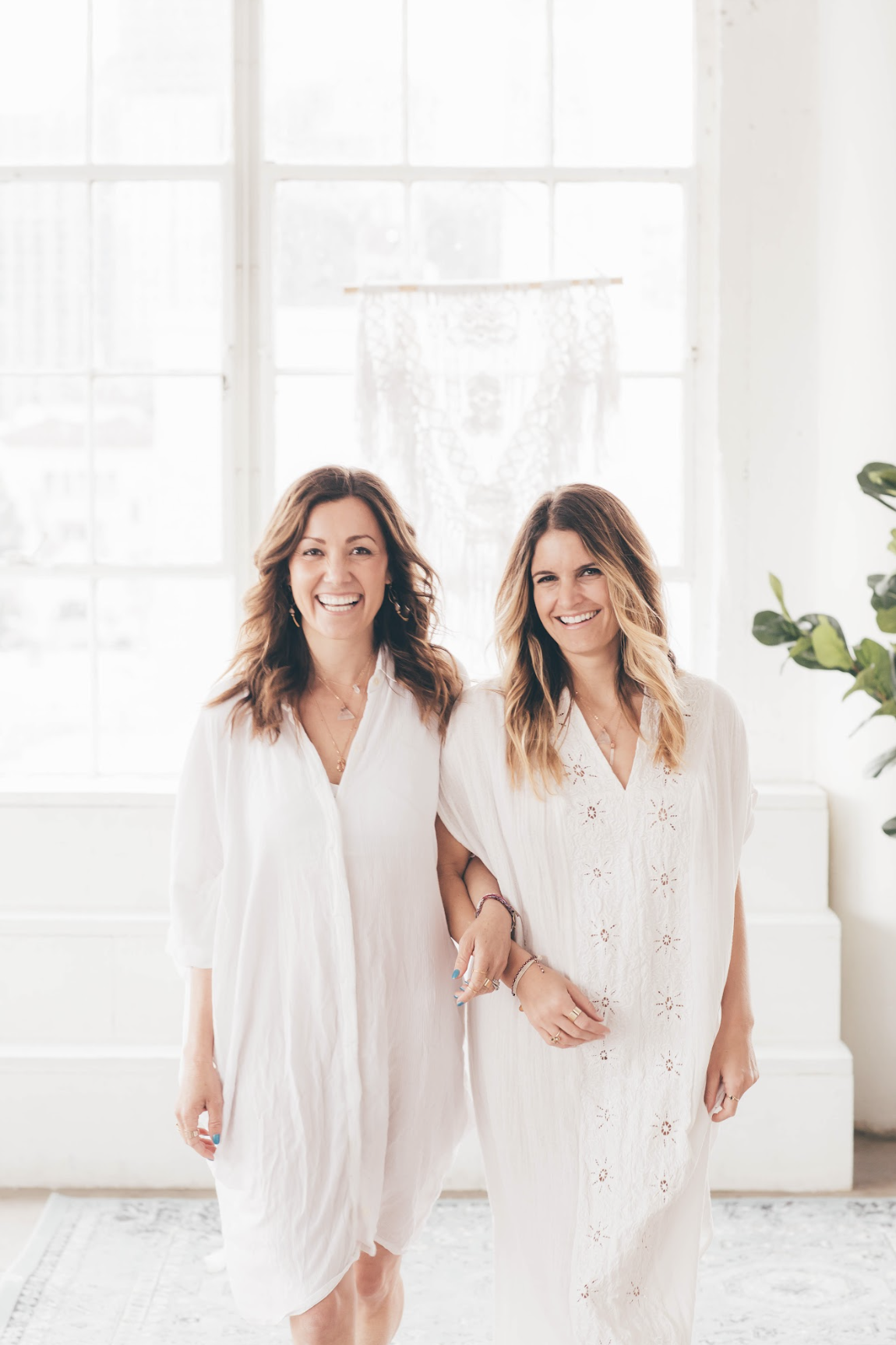 You know you are meant for more than stress and anxiety! Let us know if you can relate.

You're ready to….
Turn your pain into power and step into your purpose and you know you could help others do the same.
Embody how damn worthy you are while still being a student of life, and staying committed to your growth and evolution!
Go after the BIG THINGS. You're ready to stop putting yourself on the back burner, fill up your cup first and get clear on what you need to really shift your frequency and life in a new direction.
Get to the ROOT of your physical or emotional imbalances, stresses or anxieties.
Finally commit to living your best life and you know mindfulness tools and energetic teachings are key. There's an inner knowing urging you to trust yourself, to take the leap.
We're gonna let you in on a secret: You don't have to hustle so hard to have a next-level life.
We know, this is the complete opposite of what you've been taught. When it comes to making money, getting fit, finding love, being a good parent, and beyond, the message is strong in society….You've got to work like crazy to get the payoff, even if it means being stressed out along the way.
THE TRUTH IS MOST PEOPLE HUSTLE AND BURN OUT BECAUSE THEY HAVEN'T CREATED A LIFESTYLE THAT SUPPORTS TRUE HEALING AND THE UNIVERSAL LAWS.
Instead of being able to call in whatever they want, they just keep trying harder and harder. They make more to-do lists. They experiment with more productivity techniques. They try another fad diet. But after the initial high wears off, life gets busy and they lose motivation—and nothing. ever. changes.
NOT IN THE WAY YOU KNOW YOU DESERVE!
Sound familiar?
Apply Now
We are Britt Deanda + Tara Schulenberg, Co-Founders of Elevate the Globe. We are high vibrational living experts, intuitive mediums, kundalini yoga + breathwork instructors and ex-hustlers here to support you because we have been there too!
Before we went down the high-vibrational path, we wasted a lot of energy on gritting our teeth and just doing it.
And to deal with the stress of the hustle, we escaped into addictive behaviors and toxic relationships.
But today, because of our training and experience with ancient practices and the methodology we created, we both have transformed our lives and continue to overcome our toughest struggles with grace. Bonus results are getting stronger, happier, healthier, wealthier and more intuitive every damn day.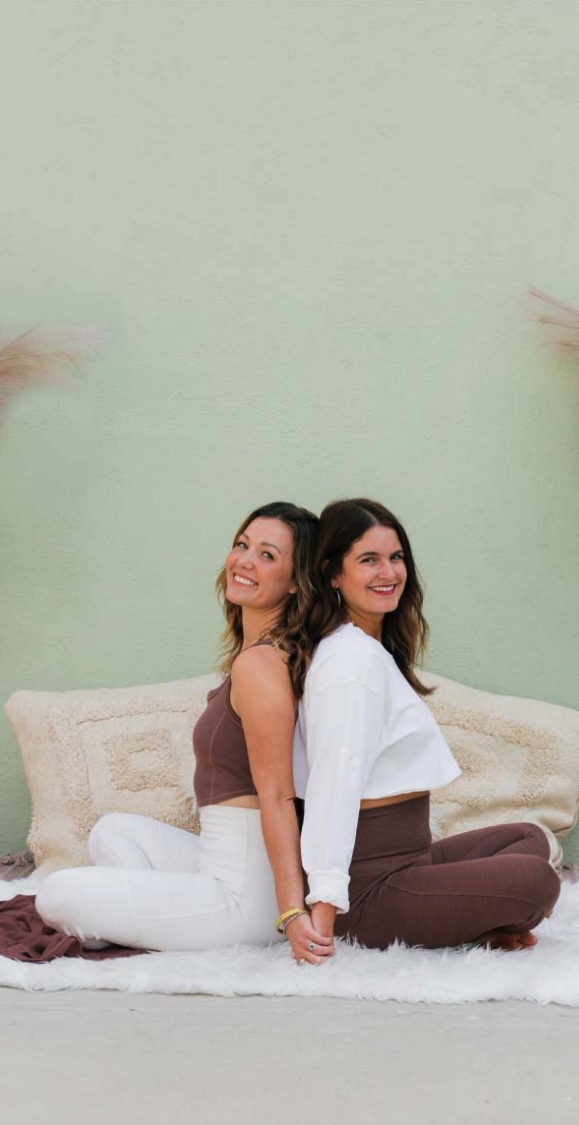 The secret? We have a unique and different approach when it comes to intuitively manifesting your dream life. It is focused on building a deep relationship with yourself and source through energy healing – this makes it sustainable but it's also efficient, scientific and results-driven.
Our method honors how different we all are and the ups and downs of life. It's not about thinking positive all the time, it's getting your energy aligned to be your most authentic, balanced and badass version of yourself.
The key is, we go to a cellular and subconscious level and it's customized for you and your journey.
Our Expansion Method is a spiritual pathway to develop your intuition and manifest your desires.
We will take you through an awakening journey but it's not a one size fits all approach. We all have different traumas, programming and imbalances and are in different phases in our lives and on the spiritual pathway. We tailor it to where you are and then help get you on a rocketship to where you are going!
You can become a MAGNET to your desires by healing through your energetic imbalances to activate the gift frequency.
In that frequency, you are a match to receive "divine downloads," and be in the state of love, gratitude, empowerment and joy on the regular.
If we've learned one thing on our journey, it's that healing and aligning with high-vibrational energy gets you a lot farther, a lot faster, than striving, stressing, and pushing for an outcome.
We know that because we are beautifully human we will experience the low-vibration emotions of stress, grief, overwhelm, hurt, anger or pain. It's allowing our emotions to move energy and give us the information they are here for and KNOWING the tools and actions to alchemize these emotions to grow and catapult our expansion.

Thousands of women around the world are using RISE UP to transform their health, find greater happiness, and uplevel their relationships. Check out these stories:
[[testimonials[testimonialCounter].quote]]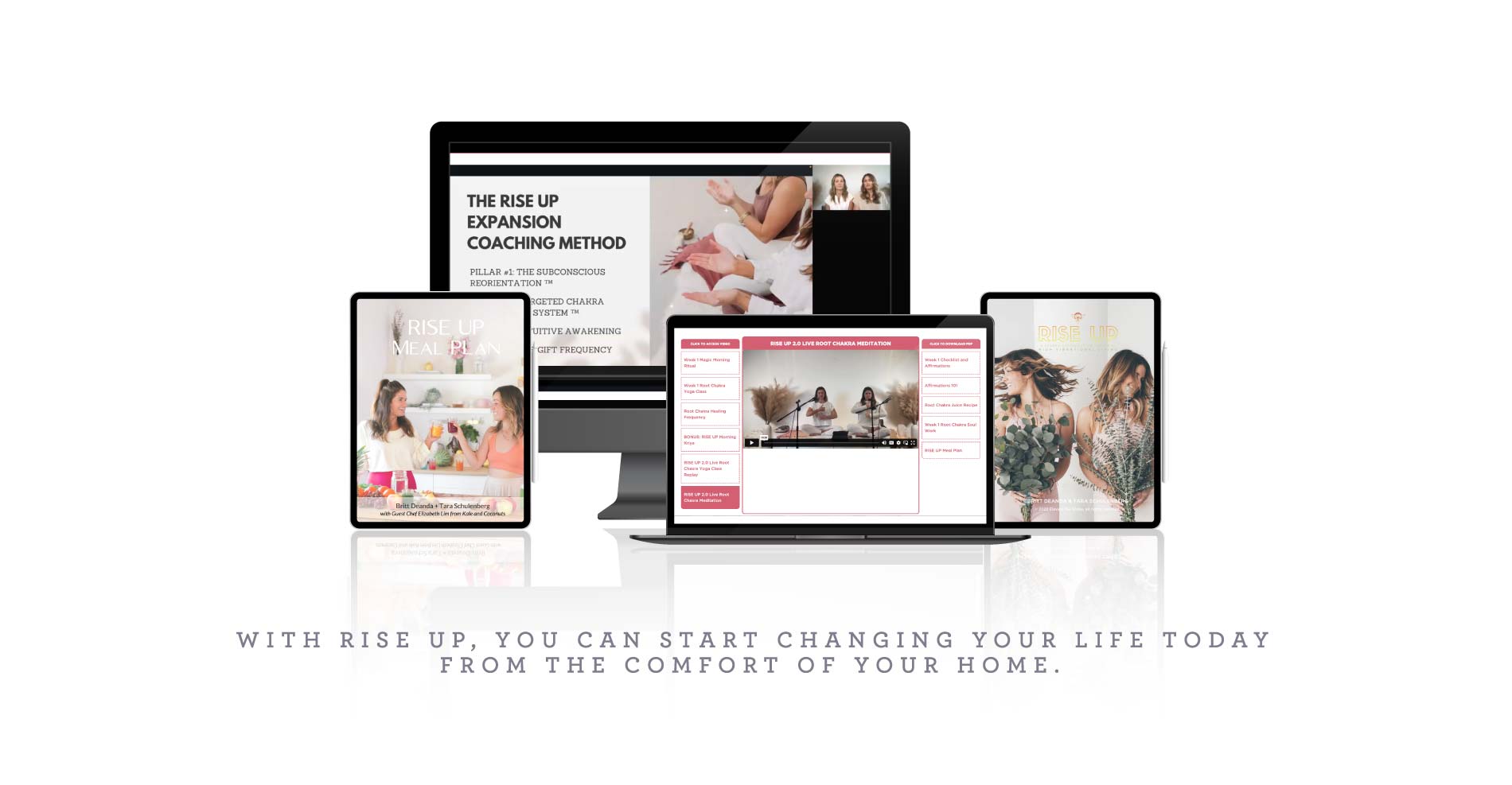 HERE IS THE PROVEN, TRIED & LIVED 4-STEP EXPANSION METHOD TO HEAL AND CULTIVATE YOUR ULTIMATE REALITY:

We've carefully chosen each teaching and practice for this course because it is potent, effective, and fast-acting.
PILLAR #1: The Subconscious Reorientation™
You can't build your dream life without first clearing out and releasing all that has kept you stuck. In the foundation pillar of this program, we'll release subconscious blocks that keep you stuck in a loop and continue attracting the same things. This includes getting in touch with your inner child, practicing the forgiveness release, and learning how to surrender. It will not be just an intellectual approach but also a somatic one where we will bypass your conscious mind and get deep into your subconscious to reorient and repattern your brain chemistry and body's memory. From here we'll set a new course by creating your own destiny blueprint and setting a course for the vision you have for your new life.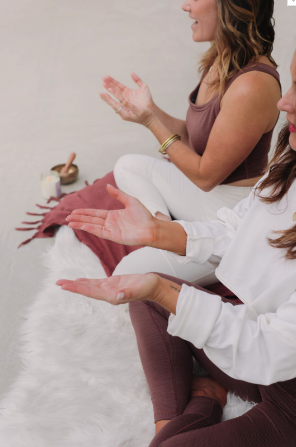 PILLAR #2: Targeted Chakra Biofeedback System™
Chakras are hubs of life-force energy within each of our bodies—everyone has seven of them running from the base of their spine to the top of their head. When we target each energy center to receive biofeedback we're actually able to get the root of your imbalances on a cellular level by implementing the "Trifecta Activation." In this core pillar of the program, we'll master the mind, body, and spirit within yourself by cleansing and rebalancing your chakras through targeted biofeedback self-therapy. We'll unlearn all you've been taught about body-energy connection to release and reprogram at the cellular level so everything works in ALIGNMENT instead of against you.
PILLAR #3: Intuitive Awakening
The biggest reason people stop themselves from actually achieving the life they desire is that they hold onto the things that keep them feeling "safe." In this phase, we're going to implement the most effective ancient and modern tools to release any generational trauma, past beliefs, and illusions of safety that have kept you from the life you deserve. You'll be able to start to become a clear channel for divine downloads, while also learning how to protect your energy, mind, and auric field at the same time. This is where you can start to be a CLEAR channel for divine downloads and activate your psychic abilities. Flowing with ease. You're now like the artist.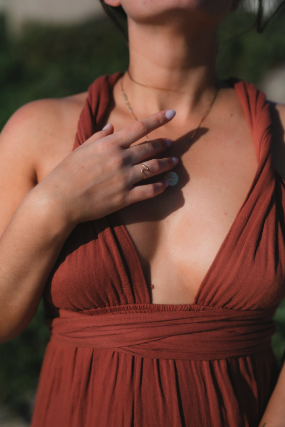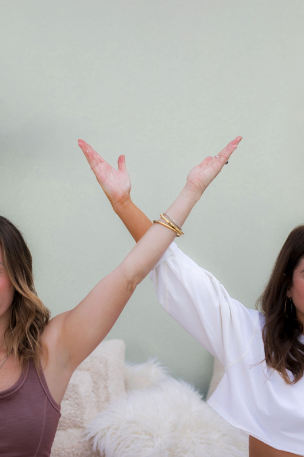 PILLAR #4: The Gift Frequency Activation
And in this final stage, you'll learn how to embody the frequency band related to your human genius and open-heartedness. Embodying the gift frequency has a huge impact on your emotional and physical body, communicating and exuding calmness. It's also the point in time when you will learn how to form discipline and commitment to solidify new habits that support your true alignment. You'll leave equipped with tools and practices that keep this kind of mental, physical and spiritual work LIFELONG. No more repeating endless cycles or falling off the bandwagon. You know what really works and you'll take it with you throughout life. You can then complete the RISE UP certification process to use this to help others if you choose.

Everyone who's experienced RISE UP has their own unique story about how it impacted their lives. Here are a few more:
[[testimonialsSetTwo[testimonialCounter].quote]]
In addition to the course content
you'll also recieve
[[testimonialsSetThree[testimonialThreeCounter].content]]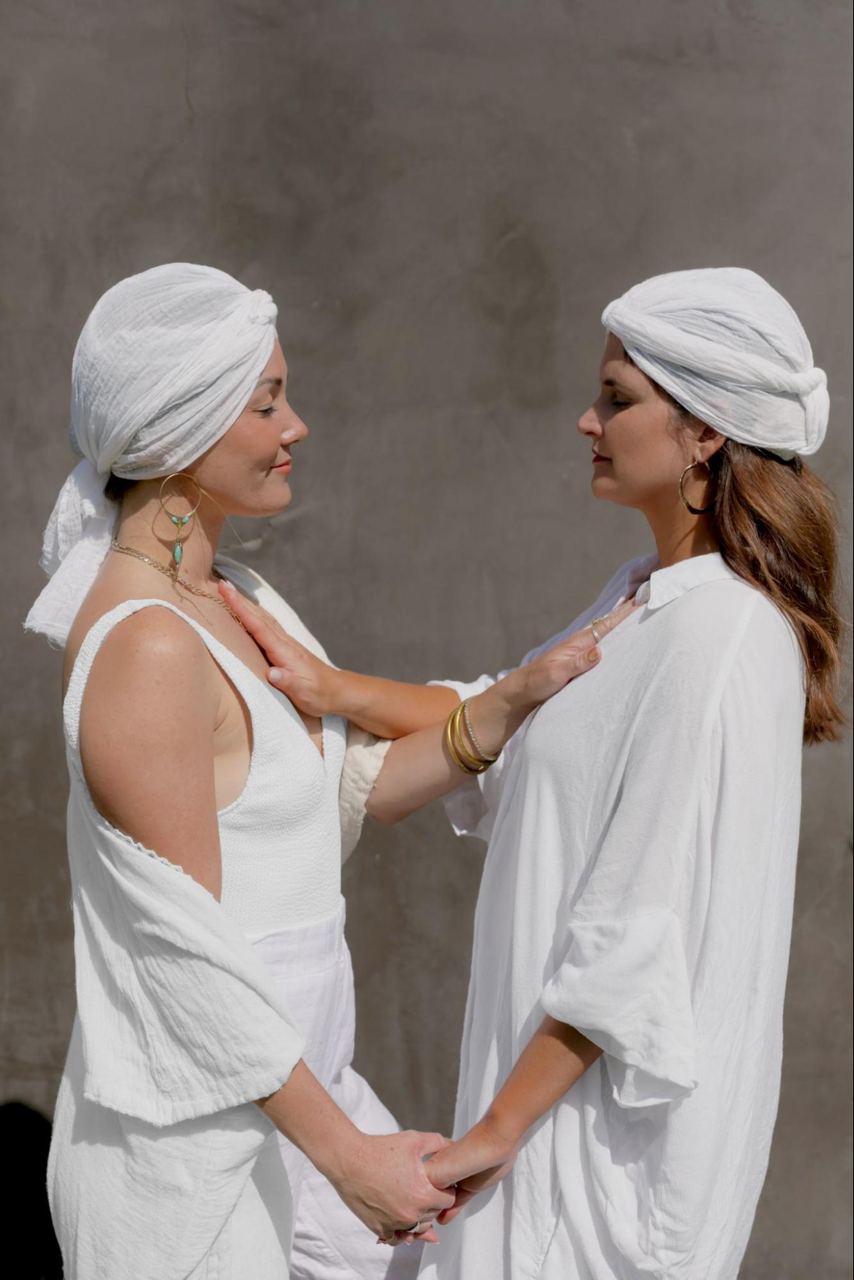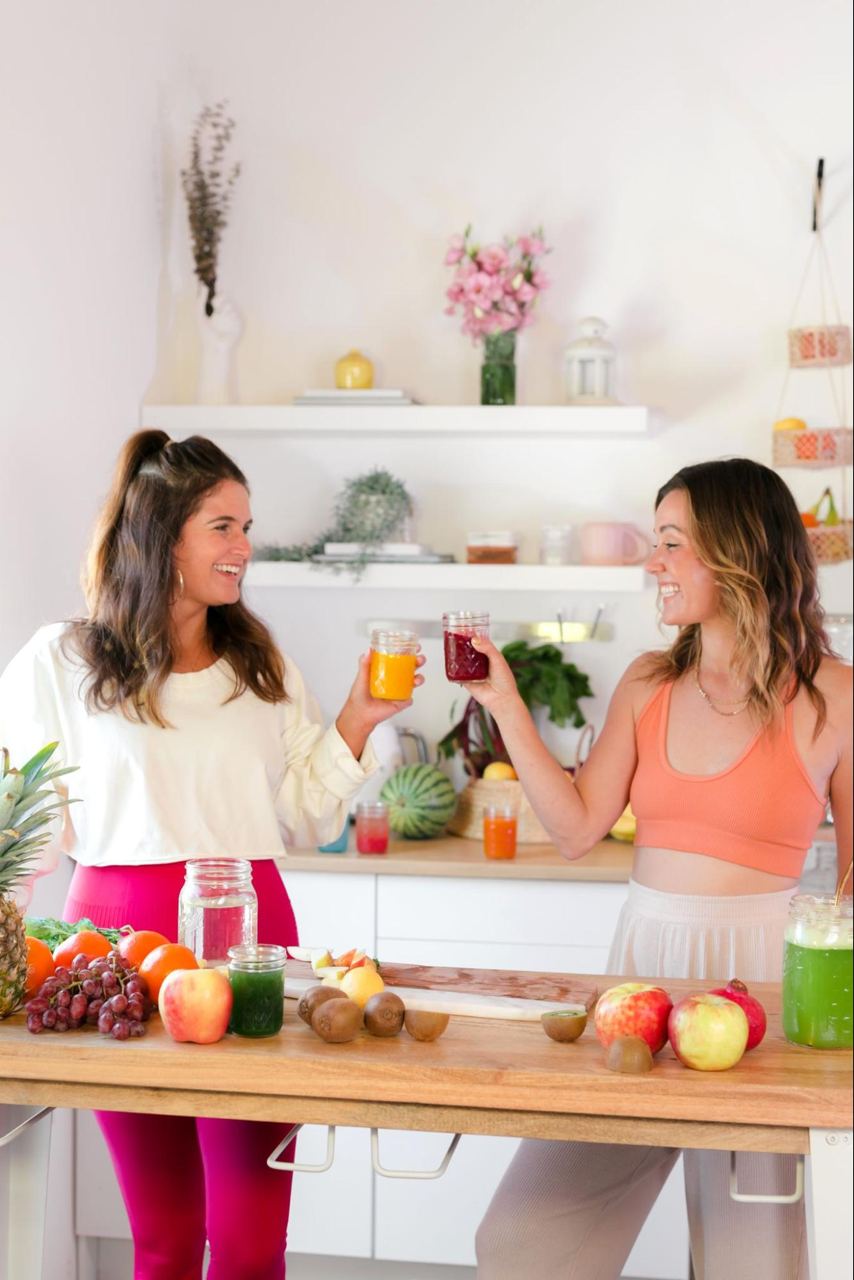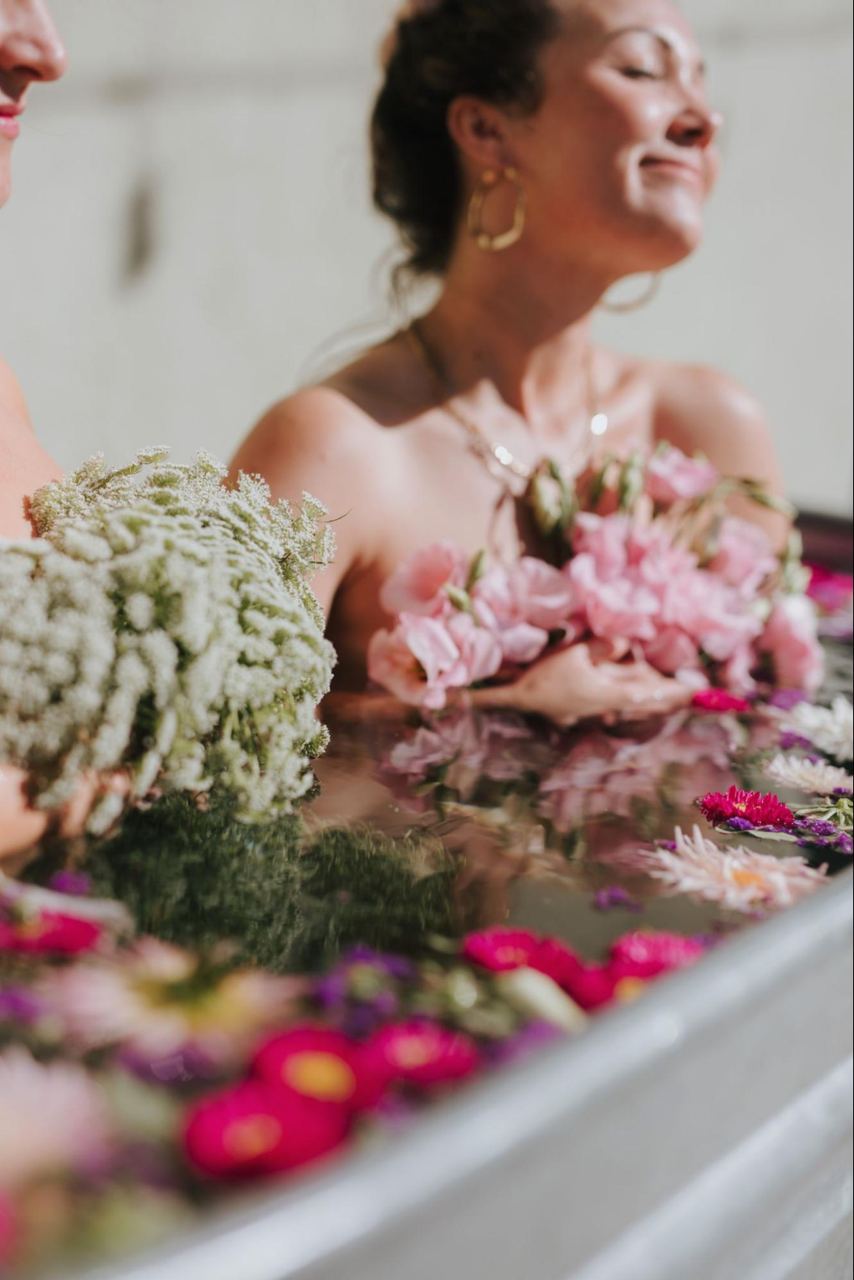 Register now to lock in these bonuses
worth over $20,000:
[[testimonialsSetFour[testimonialFourCounter].content]]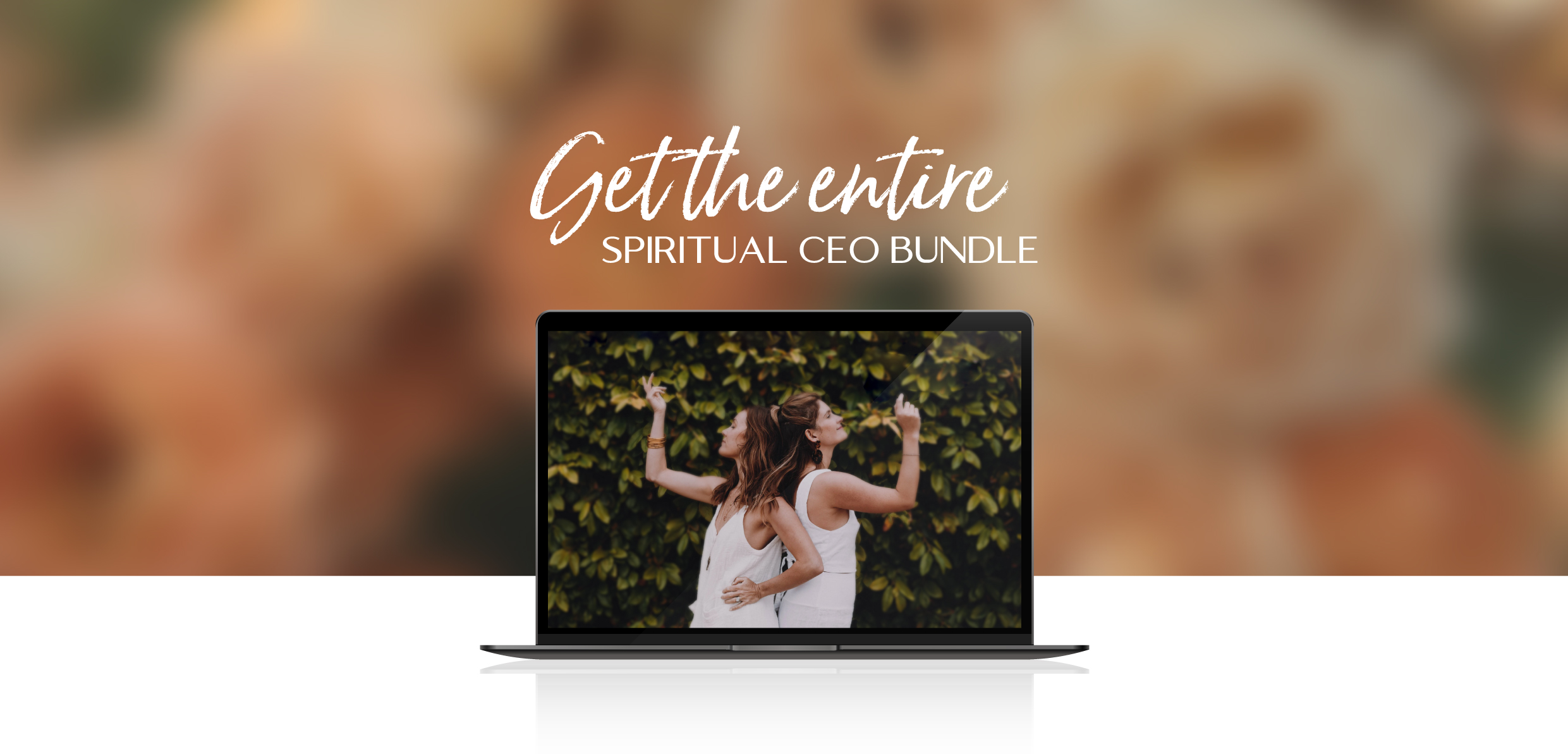 This is for ANYONE who is ready to align with and take action on stepping into your purpose and create change as a teacher, leader, influencer, working mama, or high-vibe entrepreneur. You are ready no matter what part of you're journey you are at. Receive lifetime access to our SPIRITUAL CEO Library of Resources, Business Templates (ones we use in ETG), Contacts + More (think how to start/grow a podcast and so much more!)

Elizabeth O'Neill
Lynne Taggart
Madeline Kerswell
Jessica Cubbedge
Leonis Arias
JOIN RISE UP
Intuition + Manifestation Certified Coach in High Vibrational Living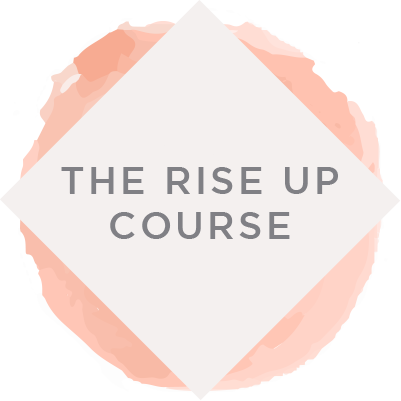 STEP 1
Submit the application form ($55, non-refundable)
FREE $55
STEP 2
Finish the 10-week RISE UP Intuition + Manifestation Certification Course in High Vibrational Living with weekly coaching to master your energy ($997)
INCLUDED $997
STEP 3
4-month Certification Program and Coaching
$2800 | $5200 with monthly 1:1 private coaching
Apply Now
Messages are everywhere.
The universe is here for you trying to guide you on your divine path.
So the question is... Are you ready to listen?
Rise Up Now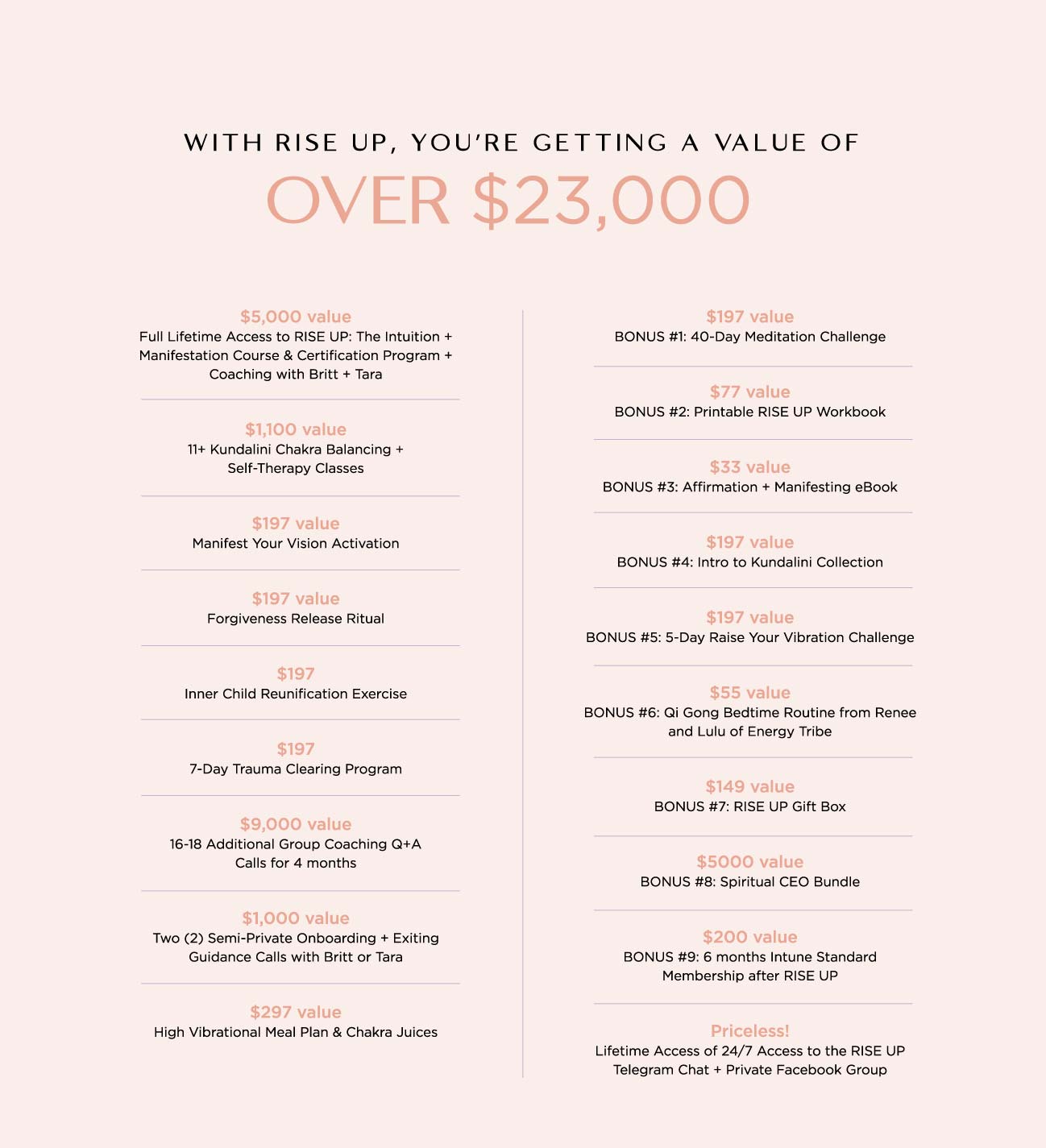 But that's not your investment:
RISE UP is $2800
And we offer a payment plan option available to you today!
Terilyn said,
I've been reflecting on all that has unfolded for me since the last full moon (in RISE UP) and what my intentions were. It always amazes me how once you ask for something you need to let go and just trust as everything happens. I think trusting the process without panicking or doubting the journey is honestly the hardest of all the soul work I've done and continue to do. Now on this full moon there is so much creative energy buzzing around my home. There is a great chance that my partner may start his own food truck business and we have someone who wants to invest in this dream too. We have dreamt of owning this type of business for awhile now. I feel so blessed and hopeful. The last moon cycle was a bit of a doozy but my bold aries nature doesn't allow for gentle and slow change lol. I can't wait to see what happens in the upcoming moon cycle. This course has provided so much direction and focus. And all at the perfect time!! Truly magical.
Becky said,
Have you ever felt completely underwhelmed by life? That is exactly how I felt before I joined Rise Up. It's like I had fallen out of love with life. However, within the first week of the Rise Up Course I felt a surge of optimism re-enter my life. The modules were almost like medicine to me. The lessons I've learned have brought joy to me everyday whether I'm doing something as simple as brushing my teeth, or as delicate as supporting my family through tragedy. My love for Rise Up and this community is forever ❤
Melissa said,
I had incredible releases of what Eckhart Tolle refers to as "pain bodies". I couldn't pinpoint what the causes were for these blocks or pains but they would get triggered and cause stress and strife in my life. The Rise Up meditations helped me release these pain bodies and the memories from childhood that unconsciously played in the background of my life. These meditations also helped me disconnect cords of attachment consciously and quickly. Today, now I know I have the tools to rise above the pain.
FAQ

I'd love to join, but I don't think I can afford it right now.
Here's the thing: when you're stressed, stuck or exhausted, you throw money down the drain every single day. You might keep ordering take-out because you are too tired to cook. Starbucks becomes your best friend, your source of energy and inspiration. (That $5 a day can add up too!) You might shop to lift your mood or fill that empty feeling you have inside. If you think this could be you, then we'd suggest that you take look at your finances and just know that we do a lot of self worth and money/prosperity work in this course. Where are you spending money because you are stressed? Then ask yourself, is this really for my higher good?
Something else to consider: There's also the cost of things money can't buy - the missed opportunities, the dreams gone unrealized, the years wasted in the wrong relationships or wrong career… When you keep ignoring these messages from the universe, you can find yourself completely overworked - and worse with nothing to show for it.
The price for the course is $2800 and you have access to it for life. So, perhaps the question should be, what is the cost of continuing to live in a state of constant struggle?
Are you offering a payment plan?
YES! We love payment plans! You will find the payment options when you enter into the sign up form. (But if you have additional questions about it, please don't hesitate to email us at support@elevatetheglobe.com).

I barely have enough time to get things done as it is - how will I find the time to to do the Rise Up Course?
We know you're crazy busy. And the last thing we want to do is give you another to-do for your never-ending list. But here's the thing – TIME is not your problem.

Say what!!?
ENERGY IS YOUR PROBLEM.

How many of us binge on Netflix once or twice a week because we feel so beat down from the day that we don't have the energy to do one more thing. How many of us take a 10-minute break to scroll through Instagram only to find ourselves there an hour later?

Our Rise Up Course is designed specifically to give you the energy you need to make the most of your time. You'll find that once you have this practice in place, you will never again be a slave to the clock. You will find more time day-by-day, week-by-week, month-by-month and be completely surprised by the amount of tasks you start crossing off your to-do-list.
I feel like I should be able to work this out on my own.
It is possible to do this by yourself and some women do manage to do just that. But as you probably know, it can be terribly lonely to make big changes on your own. And you risk wasting months - if not years - trying to figure things out. It took us 6-years and $30,000 PLUS to create this spiritual practice.

Through our journey, we've found that it's best to get support. (This applies to most everything in our life…)

We hire accountants to do our taxes. We hire hair stylists to cut our hair.

We believe creating a spiritual practice should be no different.

The Rise Up Course gives you all the tools, information and support you need in one place, so you can finally make the change you want in your life.
Can you guarantee specific results?
We completely believe in this course and would not offer it to you if we did not. The testimonials and stories on this page are from REAL women who've received REAL results.

With that being said, this is not some "get rich scheme." Our lovely high vibe attorney has advised us to say this to make sure there isn't any confusion.

Disclaimer: There is no guarantee that you will earn any money using the ideas and techniques in this program. Earning and transformation potential is entirely dependent on the person using our product, ideas and techniques.

Your level of success in attaining the results claimed in our materials depends on the time you devote to the program, your finances, your business, your knowledge and various skills. Since these factors differ according to individuals, we cannot guarantee your success or income level.
What is your refund policy?
We know this program can truly help you create the life you've always dreamed of... just like our previous students have experienced.

And spiritual teachers, we know that the only way to access the "DIVINE DOWNLOADS" is through direct, personal experience. You can't know what it's like until you test it out for yourself.

Our wish is for you to experience greater peace, joy, and meaning in your own life - without any risk.

That's why we're willing to offer such a generous guarantee. Try the course out for a FULL 7 DAYS. Go through first two weeks. Do the exercises. See the results for yourself and if you find that it's not a right fit, we'll refund your money with no hard feelings.