Hiii Elevate the Globe babes,
Have you listened to our new podcast episode on The Elevator this week with Jill Willard?! Jill is an intuitive medium and psychic who does a LIVE reading for us! It is so accurate and has left us feeling so blissed out!! Jill advised me (Britt) to take a green epsom salt bath with eucalyptus and mint so we thought this was a great time to share with you all the products we have been using in our daily routine and our BACK TO NATURE RITUAL BATH!
We have been obsessing over Seed Phytonutrients the new, all natural, non-toxic brand, that is sustainable and so healthy for our skin and hair. It is so important for us to find and share with all of you safe products to use on your bodies and it is always a HUGE plus when we find a brand that is also conscious of waste management. Seed Phytonutrients uses 100% post-consumer recycled paper with post-consumer recycled liner for most of their body products and if you know us by now you know we are plastic free and transitioning to a full zero waste and sustainable lifestyle!!
Non-toxic ingredients are such a big part of our lifestyle and we love that their products include sunflower seed oil, camelina seed oil, coconut, shea butter, and turmeric...some of the Earth's natural healers and a lot of our favorite ingredients.
For Taurus season it is all about connection to the earth and being grounded so this bath ritual is perfect to do during this time!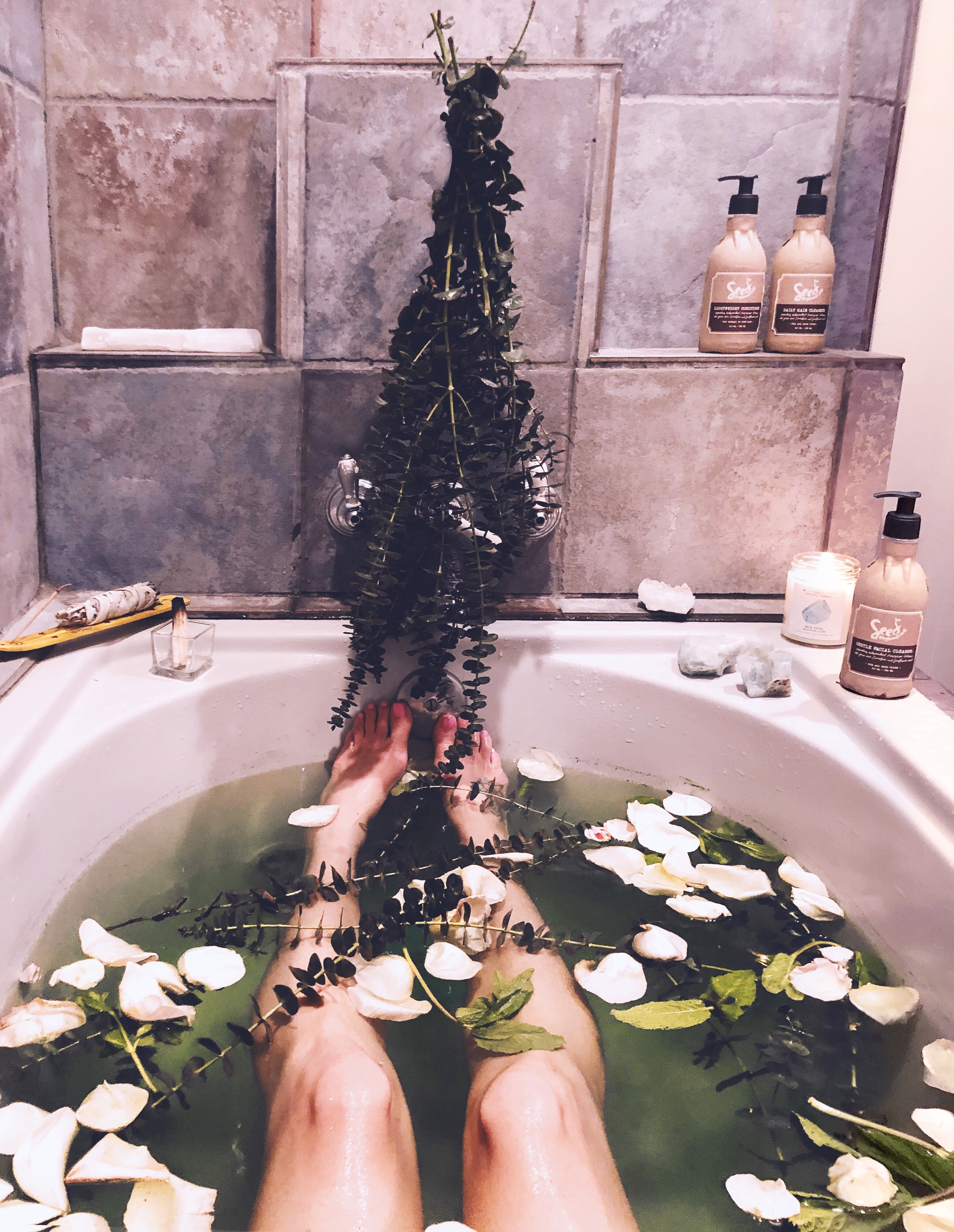 Back to Nature Ritual Bath:
Ingredients:
1. Eucalyptus
2. Mint
3. White + pink rose petals
4. Lavendar epsom salt
5. Spirulina powder
6. Clear quartz crystal
7. Jasmine essential oil
8. Seed Phytonutrients Gental Gental Facial Cleanser Cleanser
9. Seed Phytonutrients Daily Hair Cleanser and the Lightweight (normal to fine hair) or Heavy (dry or coarse hair) Conditioner
10. Seed Phytonutrients Hair and Body Oil
RITUAL:
Fill up your bathtub and add all of the above ingredients! Play Eka Mai (by White Sun) and cleanse your aura with palo santo, sage and a selenite wand. Dunk your head underwater and wash your hair with Seed Phytonutrients Daily Hair Cleanser, and either the Lightweight Conditioner or Heavy Duty Conditioner depending on your hair type. Apply the Seed Phytonutrients Gentle Facial Cleanser and splash water over your face and repeat the mantra I AM ONE WITH NATURE 5 times!! Place your clear quartz on your heart Chakra and soak in all of the magic you have just created! We like visualize ourselves in a forest and connecting to nature in the deepest way. Say a prayer and thank Mother Earth for all her beauty and for being your home and send out love to the world!!! When you are done relaxing and connecting to yourself, the earth and the high vibrational sounds of the mantra, get out of the bath and pat yourself dry. To end the ritual I used the Seed hair and body oil do abhyanga self-massage on your feet, hands, and anywhere else you need it!
Let us know how this ritual goes in the comments below, if you have used these products yet and any questions you have!
We hope you have a beautiful rest of your week!
XOXO
B + T
P.S. If you are in LA May 18th make sure to get your tickets here for our meditation and breathwork class at UNPLUG meditation!