What do we miss about Bali? The food is on that list for sure! Bali knows how to serve delicious and nourishing vegan food with so much heart + soul. We pretty much ate our entire way through Bali! We hope you were following along on our stories on Instagram to see all of the interior and exterior decor AND the food!!!

If you ever find yourself traveling along Bali, we are so excited to share with you all of our absolute favorite and ETG approved restaurants in Uluwatu, Ubud, Canggu and Nusa Penida Island.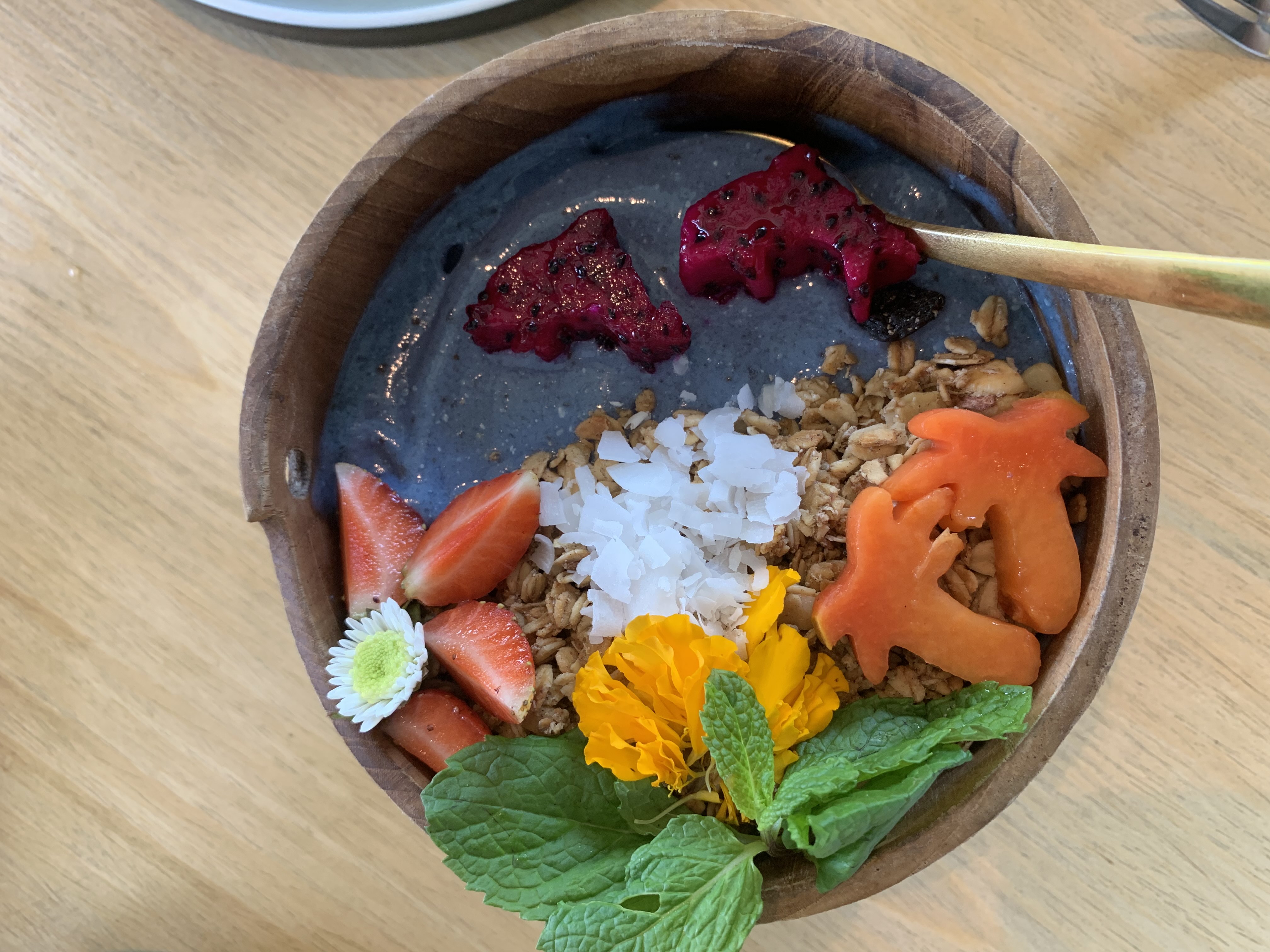 ULUWATU
The home to our retreat this past December and where we'll be hosting another in AUGUST! Stay tuned for details!
The Cashew Tree Collective - The cutest local cafe with a relaxing vibe. It's mostly outdoors and each table has something unique to offer in decor. Great vegan and gluten-free food for breakfasts and lunch! They also have acoustic music every Thursday for those super chill evenings. Explore their Instagram: @thecashewtree.collective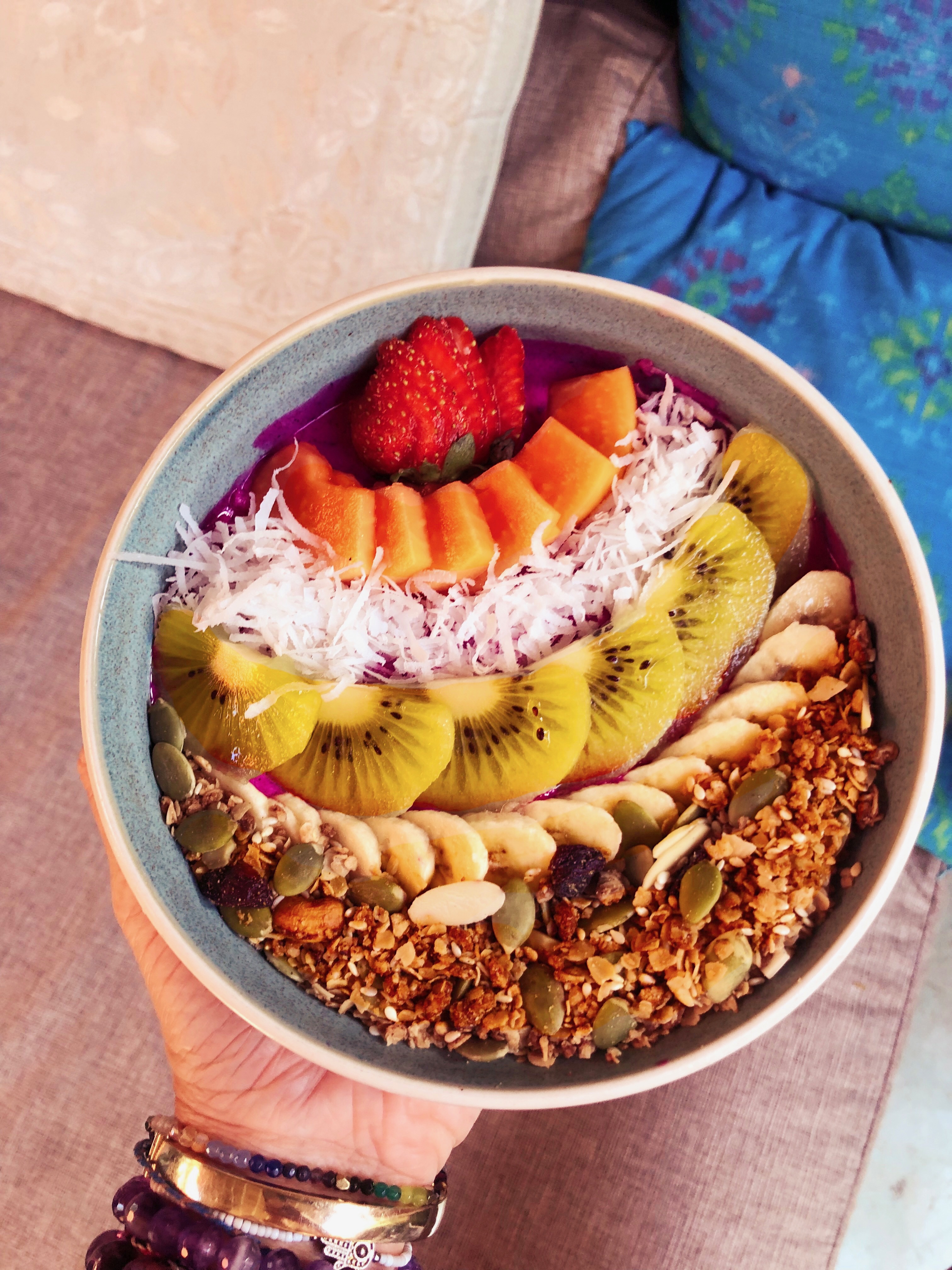 Mana Uluwatu - Delicious local food with a ton of plant-based options! While not all vegan, it's a beautiful place with spectacular views! We hosted our retreat here at the Uluwatu Surf Villas and love their food. Each meal they made was SO good and we worked with the chef to craft a vegan menu for our retreat which turned out so perfect. We especially loved the breakfast smoothie bowls. Connecting through food is such a wonderful experience and one of the countless ways we were all touched by Bali's magic during our retreat.
UBUD
Alchemy - ALL VEGAN, RAW FOOD. We loved the tasty smoothie breakfast bowls with raw rainbow goodness. You can choose the flavor of your smoothie and all the toppings to go with it at their smoothie bar. Our favorite topping was the almond butter goji berry crumbles! That combo is a match made in heaven. Every topping is so fresh + delicious, plus we love that you can create your own bowl. Their lunch options are also a great choice. The vegan caesar salad was AMAZING!!! They also have incredible vegan sushi rolls, which were a favorite at our table. You will also find the best raw vegan pizza here in Ubud! You can find their address and more images on their Instagram: @alchemybali.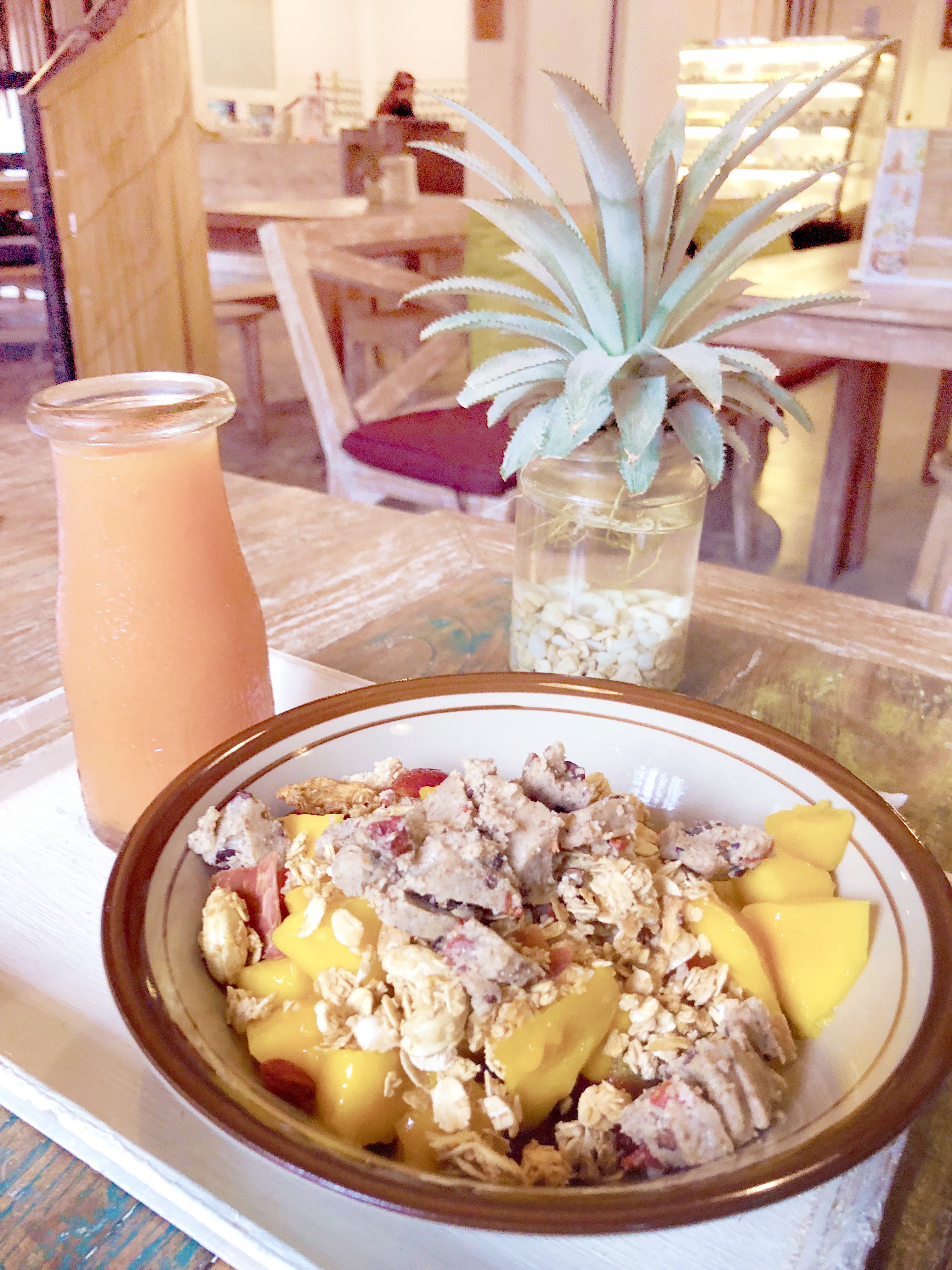 Zest Ubud - ALL VEGAN and "powered by plants". The interior + vibe at Zest is incredible and SO beautiful. This restaurant offers an amazing sensory experience of Ubud. Not only did we feel that this was a restaurant with plenty of options to try but we also felt it was a great spot to hang out and get some work done. We found that Zest was a little more crowded than Alchemy but the views at Zest are beautiful and something to be seen! For breakfast, we ordered smoothie bowls, juices and gluten-free pancakes!! The gluten-free pancakes were stacked with mango, coconut, caramelized banana, decadent chocolate sauce and dragon fruit! For lunch, we had smoothies (fav!) and especially loved the Dragon Fruit smoothie with coconut cream whip on top! Pizzas, sweet potato wedges and sticky spiced carrots were also on our table at Zest for lunch. The sweet potato wedges were one of the best items on the menu (in our opinion). They were served with cashew sour cream and a sambal sauce. Explore their Instagram for more: @zestubud.
Akasha Restaurant - We loved Akasha. Just a heads up, it's about 20-30 minutes outside of Ubud so be prepared for a longer scooter or taxi ride! The interior is all made out of bamboo and is pretty incredible (obsessed with all the sustainable architecture in Bali)! The rice terrace views were beautiful, plus the food was vegan and worth the ride! Our favorite items on the menu were the caesar salad and the jackfruit tacos. We personally loved the caesar salad the best!!! We would go back just for that salad! What makes Akasha special is that they have partnered with NewEarth Haven to bring social gatherings, moon circles and other events to support a full body, mind and spirit integration - it makes it a pretty cool place to hang out. Plus, there are many Instagrammable photo opps! You can find their address and more information on their events on their Instagram: @akashabali.
La Pacha Mama - AMAZING! La Pacha Mama is an upscale vegetarian Mexican restaurant. Our inner Cali girl was happy to find it! They have the most refreshing, delicious and authentic Mexican food that is entirely plant-based and handmade. All of the food is organic and locally grown. The atmosphere is so fun and they have live music every night with great vibes!! They are only open for dinner. You can find more information and address on their Instagram: @la.pacha.mama.
The Elephant - 100% vegetarian and environmentally conscious! We loved the atmosphere and view from The Elephant - so beautiful. They create "earth-friendly food" or food that is plant-based, nutritious and delicious but in no way harms the health of our planet. So awesome, right?! You can read more about it here! They have a wide variety of sweet to savory options and some pretty great organic cocktails if you're in the mood for a happy hour while enjoying the gorgeous Bali sunset. You can find more information their Instagram account: @the_elephant_ubud.
Sari Organik - Super fresh food and local cuisine. You have to trust us on this one! They grow all of their own vegetables right there in the rice fields and their own garden - there's even an option to go pick your own vegetables for a dish. That is truly farm to table. The location is perfect for walking for either on your way to the busy markets before or refuel after. They have a great range of organic vegetarian food and gluten-free options.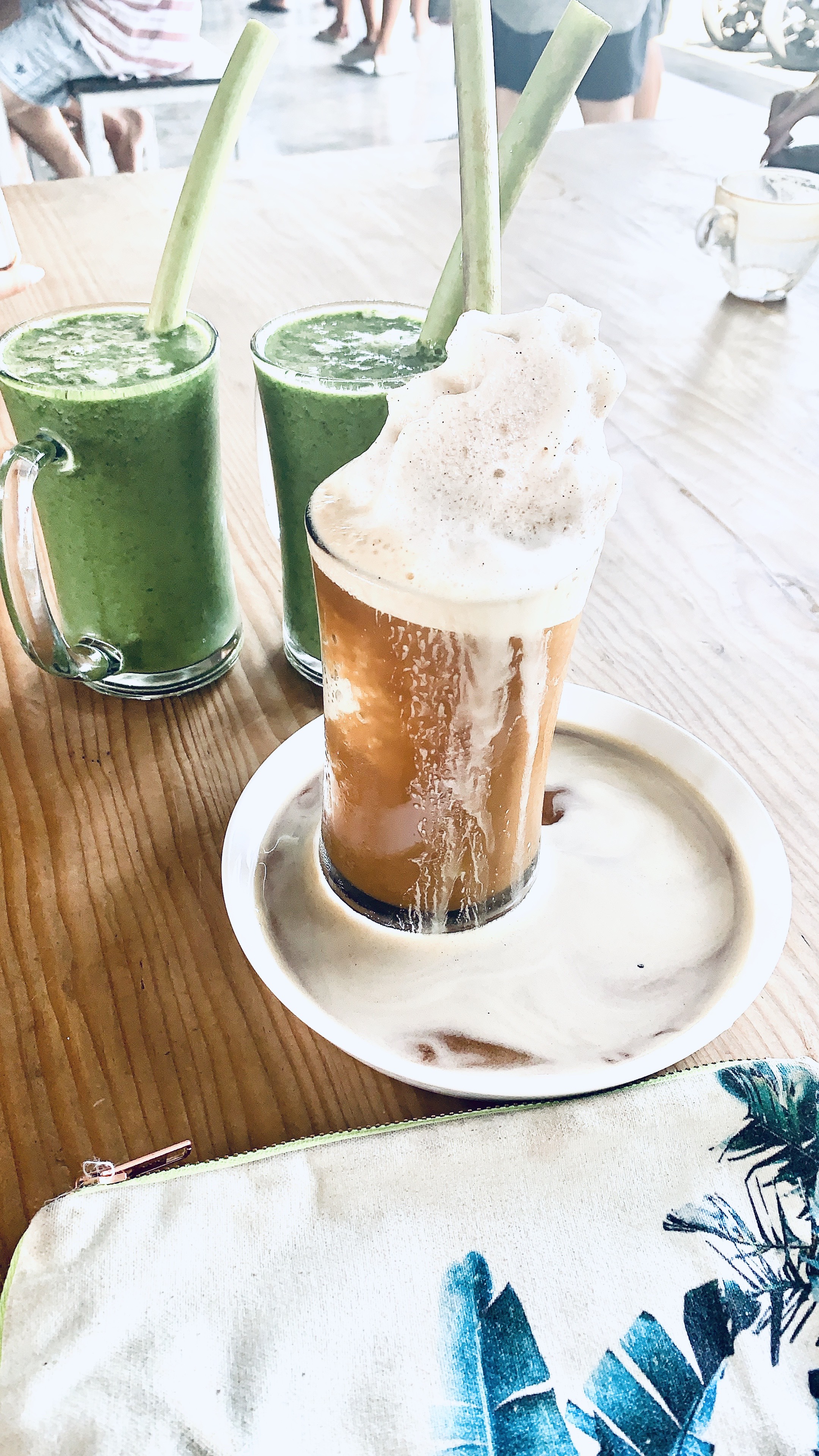 Lazy Cats Cafe - A cafe that's environmentally conscious is so one-of-a-kind! We were obsessed with the atmosphere and surroundings of this little coffee shop that also has a full bar and dining menu. Inspired by the quiet serenity of Ubud, this cafe encourages you to sit, meditate, work a little and relax in the magic of Mama Bali. We loved their coffee and tea options while we got some work done during our stay in Ubud. Find them on Instagram: @lazycatscafe
CANGGU
Give Cafe - Vegan cafe that gives ALL its profits to people and places that need it more. Some of their charities include supporting an animal rescue, those with disabilities, and giving back to Bali villages. They have some of the most amazing food on the island (think Unicorn pancakes, vegan Nasi and Mia goreng with vegan egg and more) and we are obsessed with this concept. It's so cool to find a place that so aligns with what you're all about and tastes so good! Explore their Instagram: @givecafe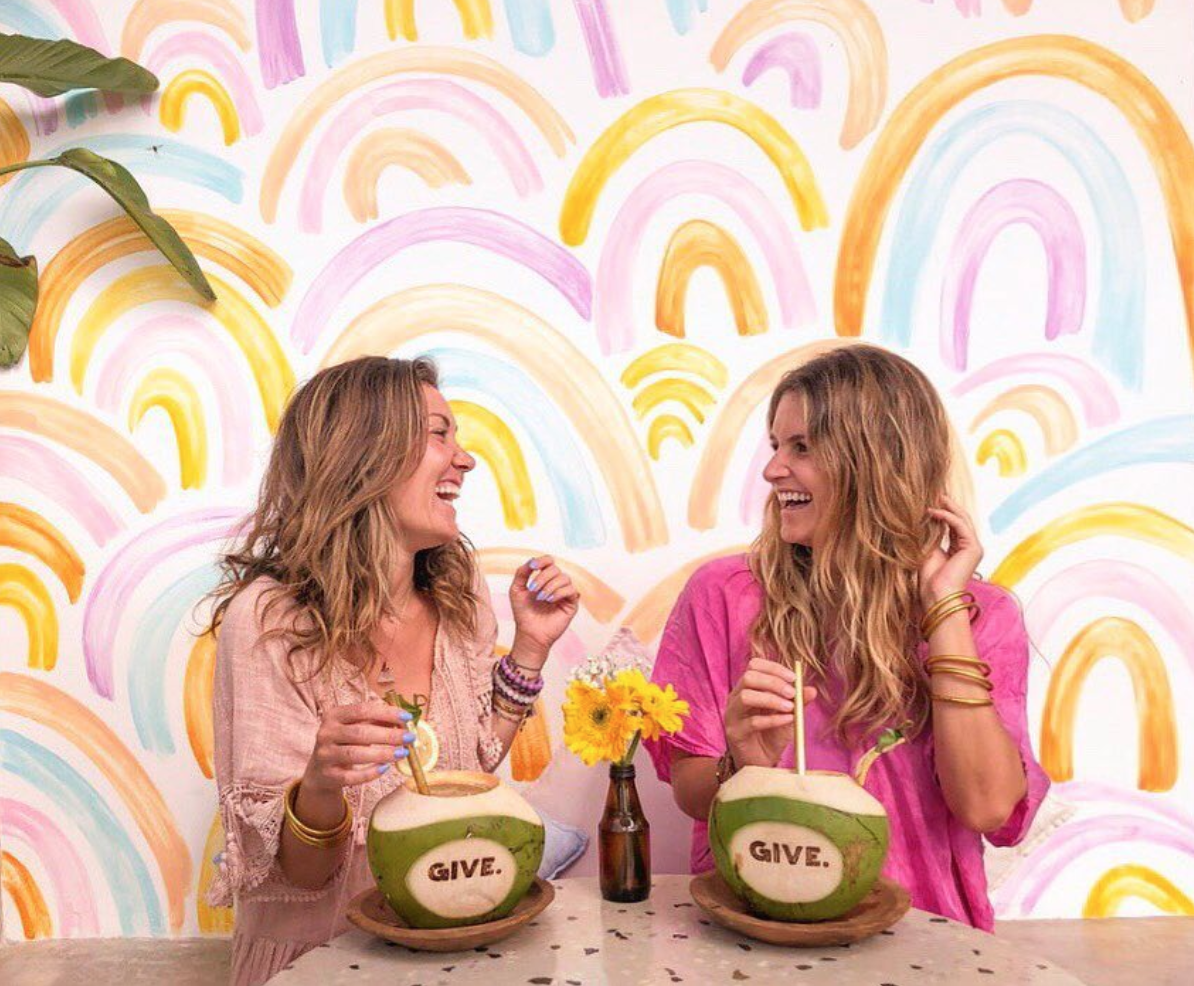 Crate Cafe - The BEST breakfast in Canggu. It's a must!! The atmosphere is very high-vibe and always busy. We recommend going early before the crowd gets there! They have a nice lounge to enjoy your breakfast and have a gallery with local art. Such a great way to start the day. The iced lattes are SOOOO GOOOOD! We also love the smoothie bowls and the vegan nachos were a favorite! You can find more information on their Instagram account: @cratecafe.
Peleton Supershop - Combination plant-powered cafe and sustainable goods store! One of our all-time favorite restaurants in Bali! The entire menu is plant-based with sooo many options to choose from. They make it a mission to make people comfortable with living consciously and enjoy vegan food. The atmosphere is so bright + vibrant. We enjoyed getting some work done here! The smoothie bowls were to die for and the vegan + gluten-free pancakes were BOMB. All the food is incredible but breakfast was our favorite here. You can find more information and photos on their Instagram account: @pelotonsupershop.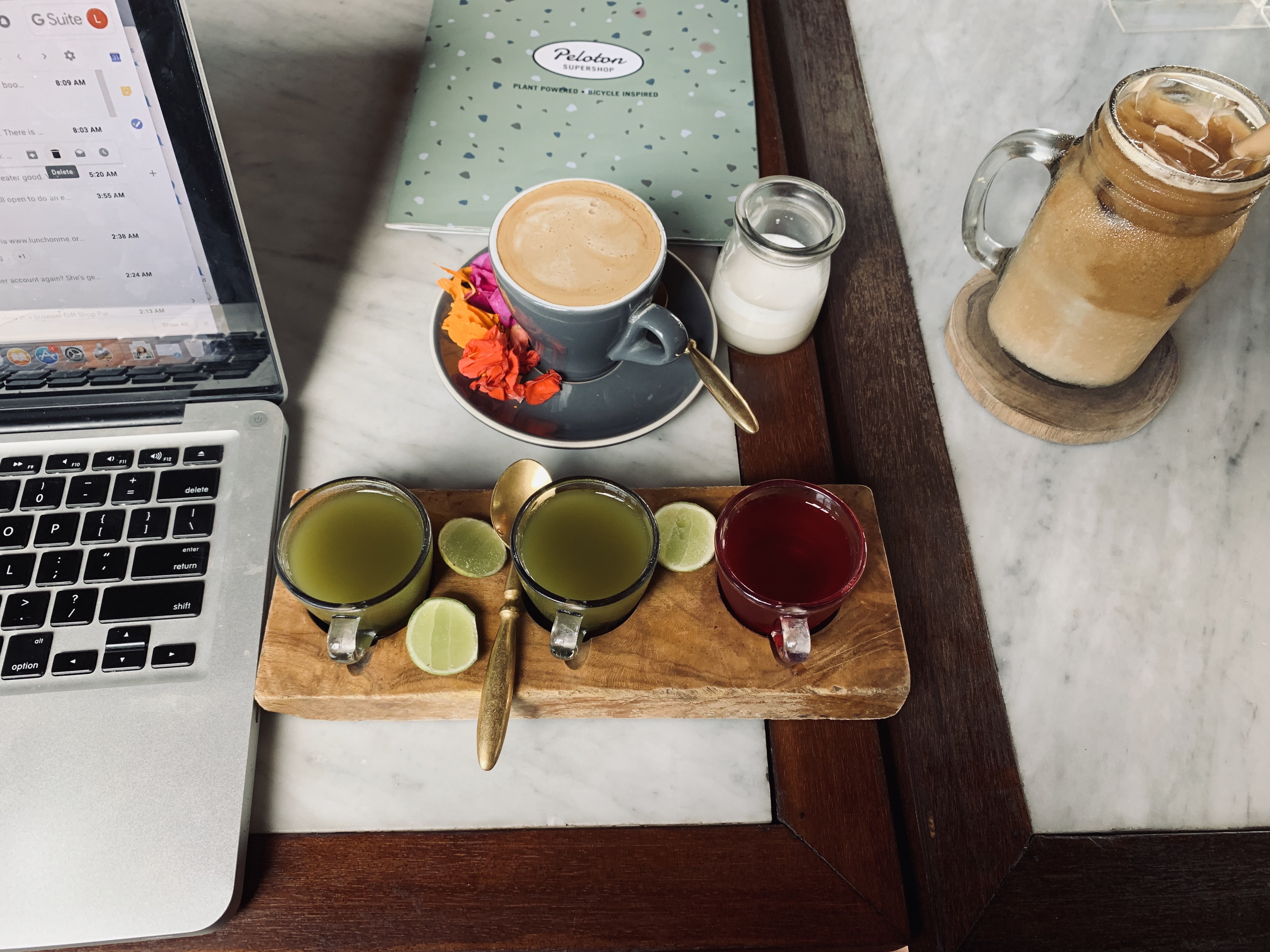 In the Raw - Cold-pressed juices, smoothies, healthy food and snacks. You really can't go wrong with smoothie bowls and fresh juices in Bali - they're everywhere and SO good! In the Raw offers entirely plant-based options and the atmosphere is a beautiful garden setting! We met up as a team here and had so many yummy snacks and juices. Everything was so vibrant! They have the best vegan cheeses here too! This was a great spot to hang out and meet up as a team. Find them on Instagram: @intherawbali
La Baracca - BEST ITALIAN VEGAN FOOD in Bali. We had an ETG team dinner here and everyone loved their food and the atmosphere was so cozy + welcoming. They take classic Italian food and fuse it with plant-based and locally grown options. We HAD to go back a second time for the vegan pizza and wrote our name on the wall! If you find Elevate The Globe on the wall be sure to take a picture and tag us!! You can find them on Instagram: @labaraccabali.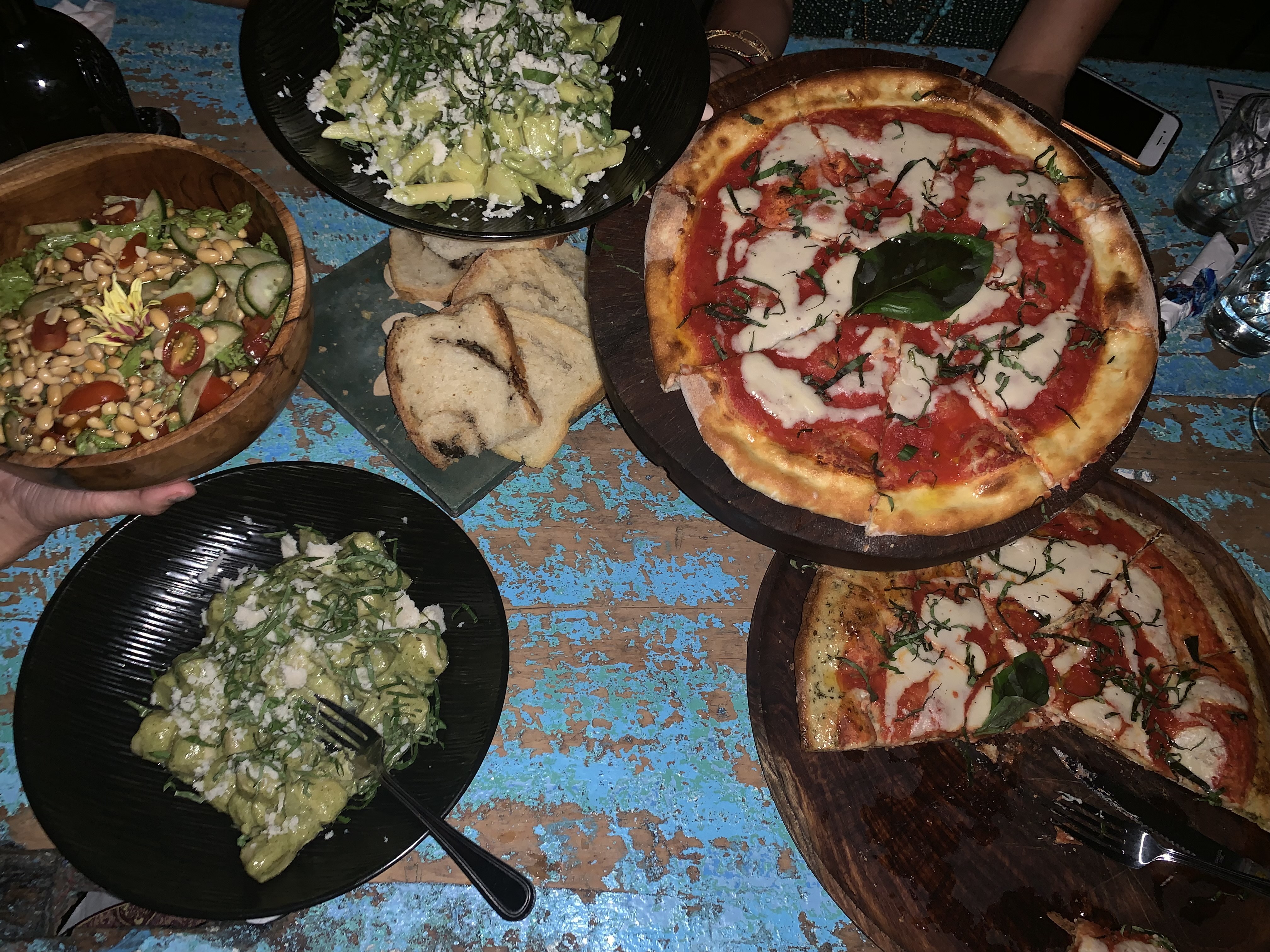 Shady Shack - Cute lil' local spot! This was a really cool restaurant with amazing vegetarian food. We would highly recommend lunch here. We didn't love the brekkie here as much but for lunch, the vegan cheeseburger was one of the best in the world! You can find them on Instagram: @theshadyshack
Plant Cartel - Plant-based fast food! Yes, it is a thing! Well, in Bali and currently wishing they'd come to the states. If you are craving some fast food, but all plant-based then this is your stop!! We were obsessed with how good the food here was because fast-food doesn't have to be all bad for you! The mac-n-cheese here was AMAZING! All their food is really good and what you imagine fast food to be. Think burgers, fries, hot dogs, mac-n-cheese, etc! You don't want to miss this spot! Explore their Instagram: @plantcartel.
NUSA PENIDA ISLAND
Vegan Soul Kitchen - What a gem! Though it was the only vegan food restaurant we could find on the island, it was amazing!!! To get to it, there was a bit of a trek down a dirt road on a scooter but it was so worth it! They offer tasty, fresh food and local prices. While enjoying your meal, you sit in the middle of trees and have a breathtaking view.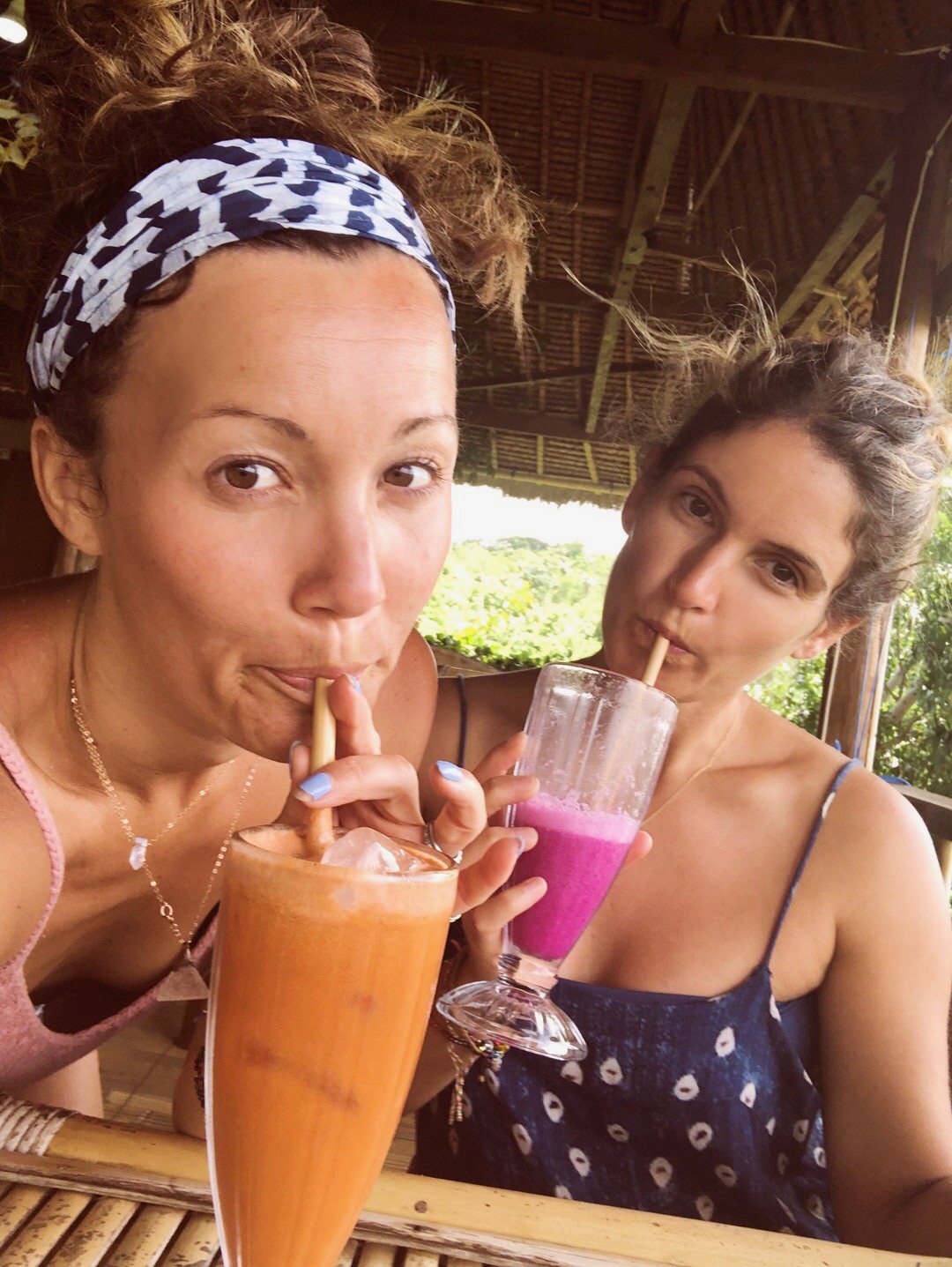 We hope you find this guide helpful!! If you need us we'll be dreaming of all the smoothie bowls and vegan food in Bali.
We love talking about food and all things high vibrational living which is why we are hosting our 5 Day Raise Your Vibration Challenge coming up next week starting Jan. 27. It will be live and it's FREE to join us- sign up here and grab your spot!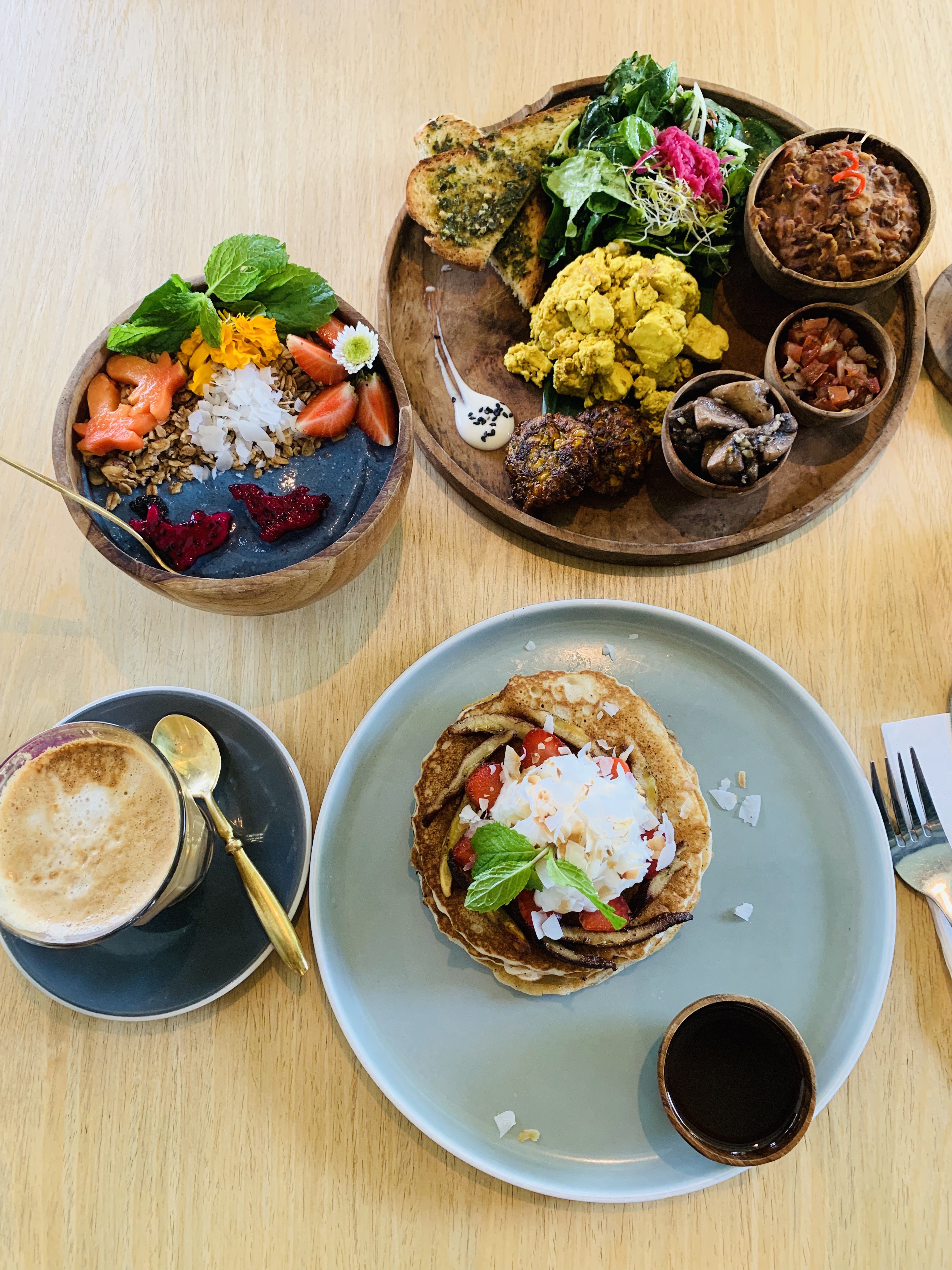 Let us know in the comments which Bali stop you would be most excited to try!