We hope you guys had the happiest Halloween!! Most of you know we are beyond obsessed with Golden Milk aka Turmeric Lattes! We have our vegan version of Yogi Bhajan's recipe in our free Raise Your Vibration Challenge if you don't have that one you can get it here.
Yogi Bhajan said it is the tonic of vitality and flexibility and since we love everything pumpkin we made a pumpkin spiced version that is seriously amazing and wanted to share it with you guys!! We can drink pumpkin spice until Christmas right? Let's be honest we don't follow the rules around here...whoever said you shouldn't wear white after Labor Day must not have known the vibrational frequency of white clothing LOL.
If you make this recipe tag us on instagram and we will repost!!
Here is what Yogi Bhajan said about Golden Milk-
"Turmeric is the most healing root for the body. It comes from the root of a plant which is grown mainly in India but it has been used in many countries for thousands of years as a healing food. It is known to be beneficial to the inner organs, the spine and the joints. It is purifying to the blood and promotes general good health. It also has external healing properties and can be used in masks and baths for the skin.
Golden Milk can help to repair damage to nerve centers caused by drug abuse. Drink it every day for 40 days.
It keeps a person beautiful. When used internally, it should be cooked rather than raw, so that the body can more easily assimilate its healing powers. It is an essential nutrient for women over the age of 28.
Golden Milk is especially beneficial for stiff joints and provides a source of lubrication for the entire system. It includes both essential oils and turmeric, both vital ingredients to help women keep their flexibility and vitality."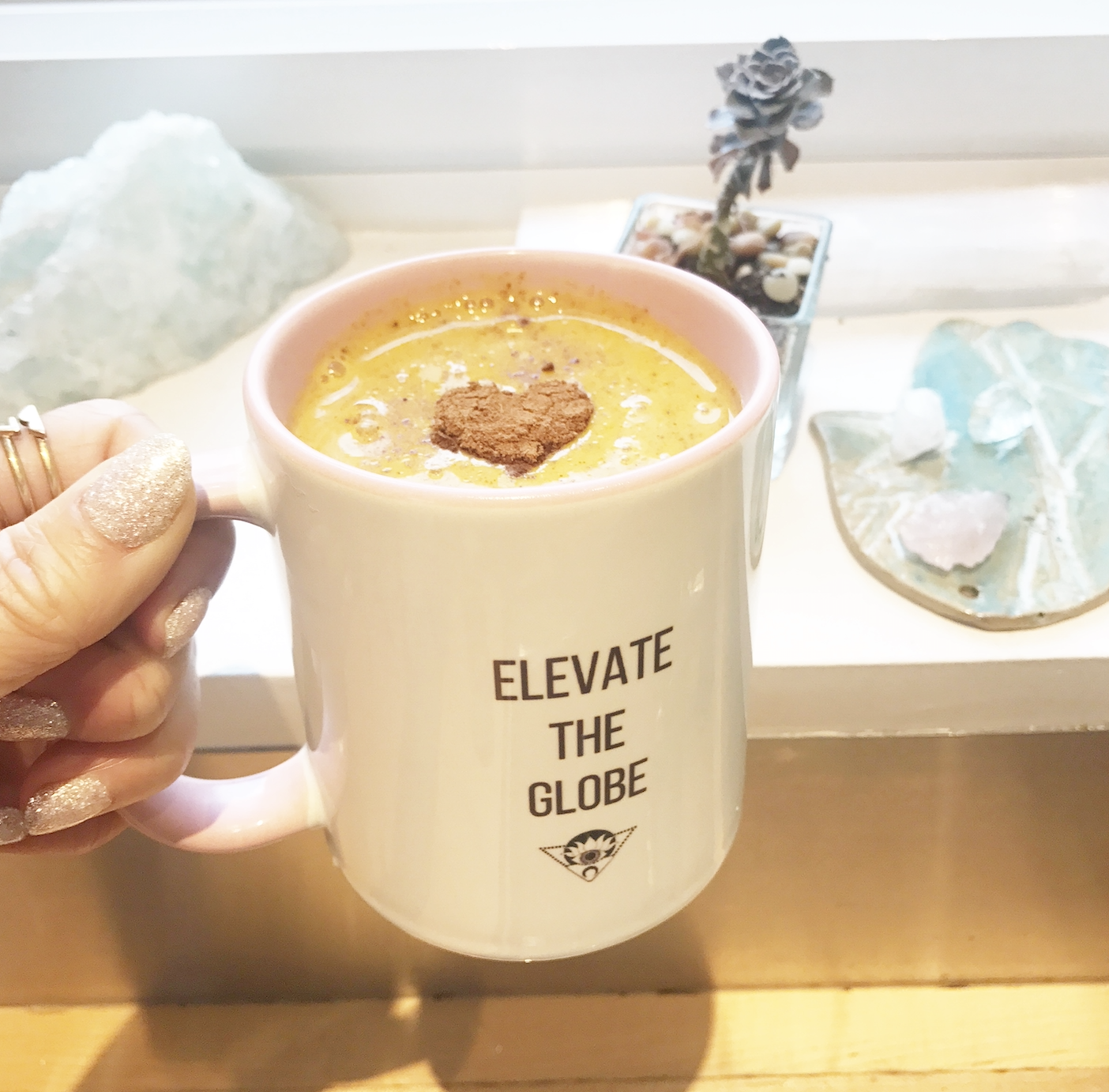 Ingredients:

1 tbs Turmeric
1 tbs Pumpkin Spice (feel free to add more if you like it more pumpkiny)
1/4 tbs Cinnamon
1 1/2 cup organic almond milk
2 tablespoons raw almond oil or coconut oil (we switch it up between the two)
1/2 teaspoon syrup or honey (optional)
Cooking Instructions:
Simmer turmeric in almond milk with the oil. Suggested cooking time is 5-8 minutes. Add in the rest of the ingredients and mix in a blender or whisk it in the pan- we also love this electronic frother. As soon as it boils, remove from heat. Add syrup or honey for taste.
Note that you can prepare larger quantities of paste by mixing water with it, as it keeps in the refrigerator for up to 40 days. The general ratio for paste of turmeric to water is 1 part turmeric to 4 parts water.
We hope you enjoy this as much as we do!!
XOXO
Source 1