Have you ever been somewhere and felt like the place was made for you?

Like you were in a dream of all of your favorite manifestations in one place?
That is the best way to describe how we felt about Sunrise Springs Resort and it took our belief in how detailed you can manifest to a whole new level.
I mean, we were literally wanting to go to New Mexico the same weekend and stay at the same place when we received an email about going to check out and review the property….thank you universe and thank you Sunrise Springs for seeing what a magically aligned match it would be to have us there.
We absolutely believe in the power of relaxation and have studied how important it is to align your energy and feel good to attract and manifest, which is one of the many reasons why it's so important to take time out for yourself and do wellness travel.
High vibrational trips like ours to Sunrise Springs really are the best thing to rejuvenate and allow your body, mind, and soul reset. Just like we charge our phones, we have to recharge our batteries and take down time and move locations to raise our vibration and spark the creativity and wild woman within!
Which is exactly what happened for us.
We were amazed by the abundance of awakenings we had and how great we felt after our trip! We truly recommend it highly, so much so that we are planning a retreat at the property in 2019.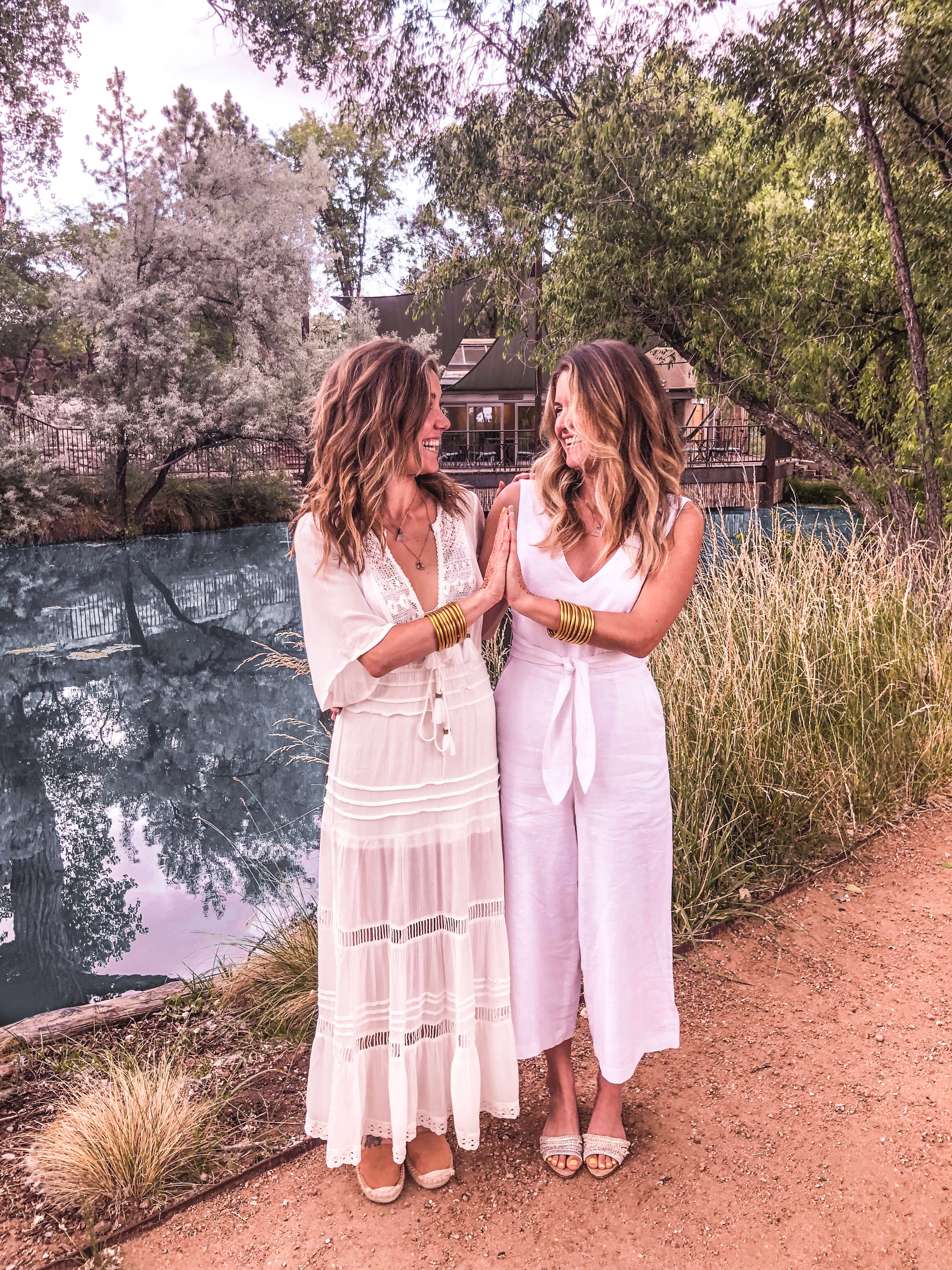 So we wanted to share more about our experience and hope it will inspire you to try any of the hundred….ok not hundreds but it felt like it, fun and healing things we did, or take a trip out to Sunrise Springs yourself. The more people who spend time at places like Sunrise Springs, the more elevated this world will be and we need more transformative places like this in the world, that's fo sho!
So our first night, was one of the many highlights of the trip which set the vibration for the rest of our time there. We met up with the other girls who came on the trip with us Kate Van Horn, Caroline @plantbasedblonde, Georgie from @littleflowerpetal, and Emily from Hawkins PR.
The night began with a Native American ceremony led by Concha, one of the Native American chief healers. We watched them practice rituals honoring the 4 sacred directions made up of dancing and singing, and they even invited us to participate barefoot in a circle of friendship towards the end of the ceremony. We felt more connected to the elements and nature than ever.
During the friendship ceremony, Tara connected to an old cottonwood tree visible from the ceremony circle,and she felt it talking to her and bursting open her heart chakra. The trees on the property held so much power but that one in particular felt special, like a grandfather spirit.
Standing in a circle with Concha and her tribe waving palo santo through our auras (fire), splashing water on our chests (water), waving feathers in our face to feel the wind (air), and dropping flower petals on our heads (earth), to connect to all four elements was a moment I will never forget.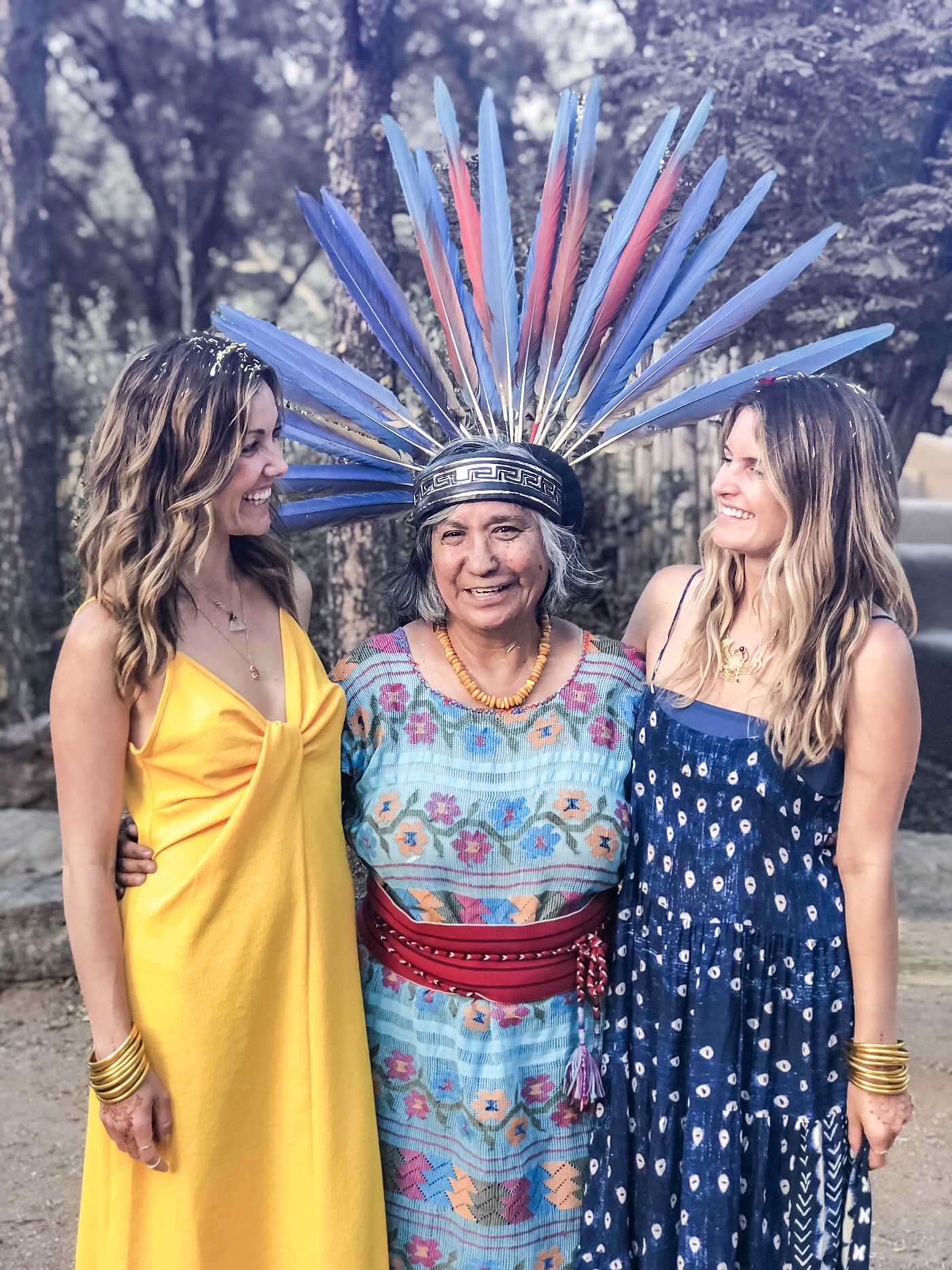 I truly felt like, how the heck did I end up here and also, I never want this moment to end - which was followed by a message from the universe telling me, that to enjoy each moment that deeply is really living and the key to happiness.
After the ceremony, we had a 5 course vegan cleansing dinner prepared by Chef Rocky Durham, the resident chef and beautiful soul who we fell in love with. It was the best start to our time there and we slept so incredibly well the first night, feeling like we just stepped into a waking dream.
Day two, we woke up bright and early to teach a 5:30am Sadhana with our RISE UP members on a dock in the middle of the ancient spring water lake in the center of the property. We taught a Kundalini aura cleansing class while the sun rose behind us. A magical way to wake up!
The day flowed with so many fun activities like hatchet throwing and archery, and we played with service puppies in training at the puppy school on property and had time in between it all to relax, swing on the swings on property, eat more vegan food and check out the pool.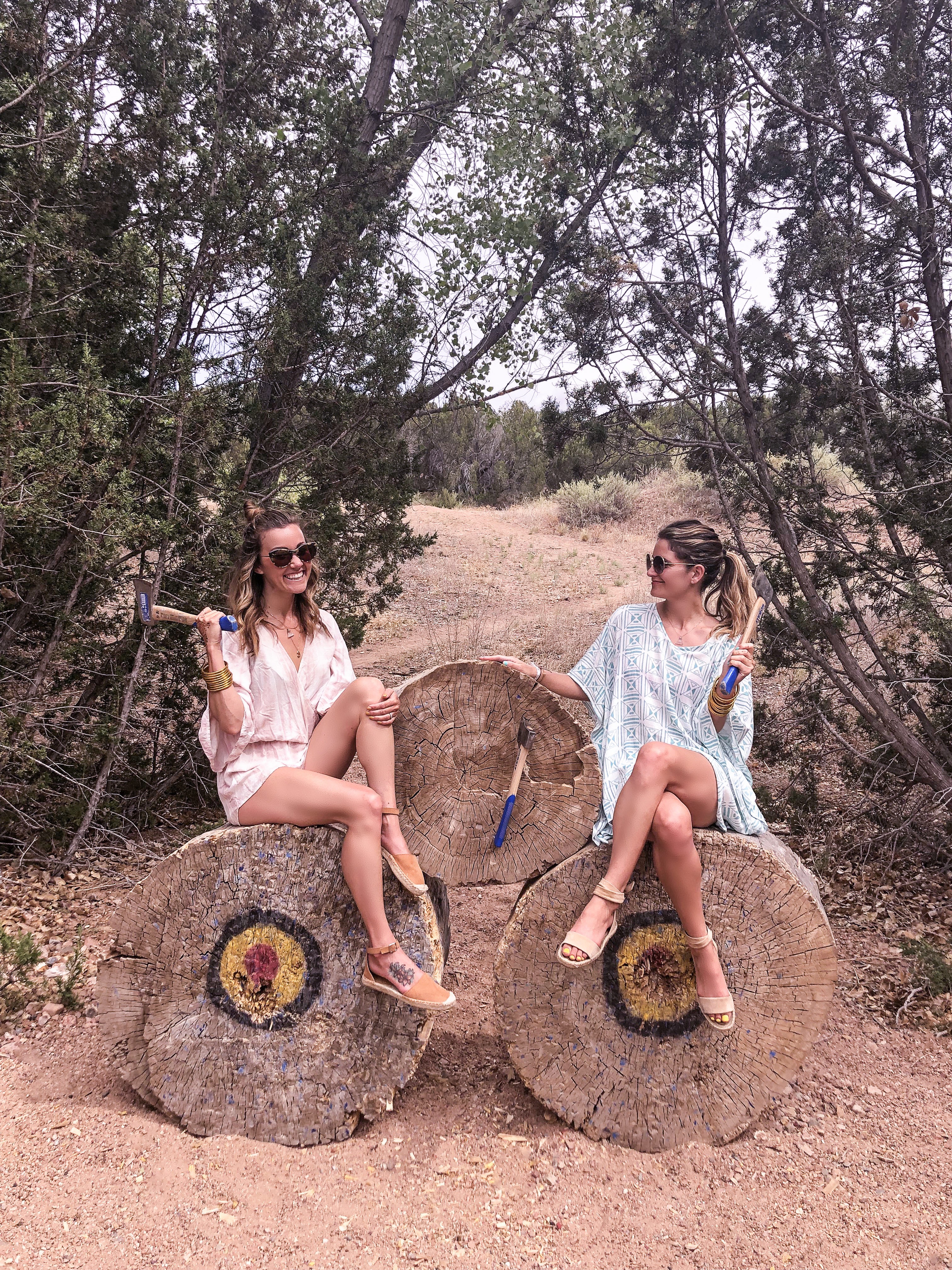 We also hopped on live as we were doing a tea ceremony and 10 minutes in Shaman Durek joined us, which we know a lot of you caught and had the best time chatting with him about all the spiritual topics. To round out the day, we headed over to the sweat lodge on the property to participate in a ceremony led by Concha and Bernard, two Native American healers.
Ok so a little background on the sweat lodge if you aren't familiar - sweat lodges are an ancient practice that have been performed mostly in the Native American tradition and the ceremony is a purification ceremony, or simply a sweat. In all cases, the sweat is intended as a spiritual ceremony and is for prayer and healing - and that's hands down what we received!
The ceremony is only to be led by elders who know the associated language, songs, traditions, and safety protocols like a shaman - or in our case Concha. She is the tribe leader and amazing soul who we fell in love with.
We share about all of the details of the sweat lodge and the rest of our experience at Sunrise Springs in our podcast episode out this week and we are planning to do a retreat there soon!
Some other highlights included the most amazing soak at the spa in the spring water and a CBD oil massage (Dixie was incredible), going into Sante Fe to an Oxygen Bar, and playing with silkie chickens that are also on the property.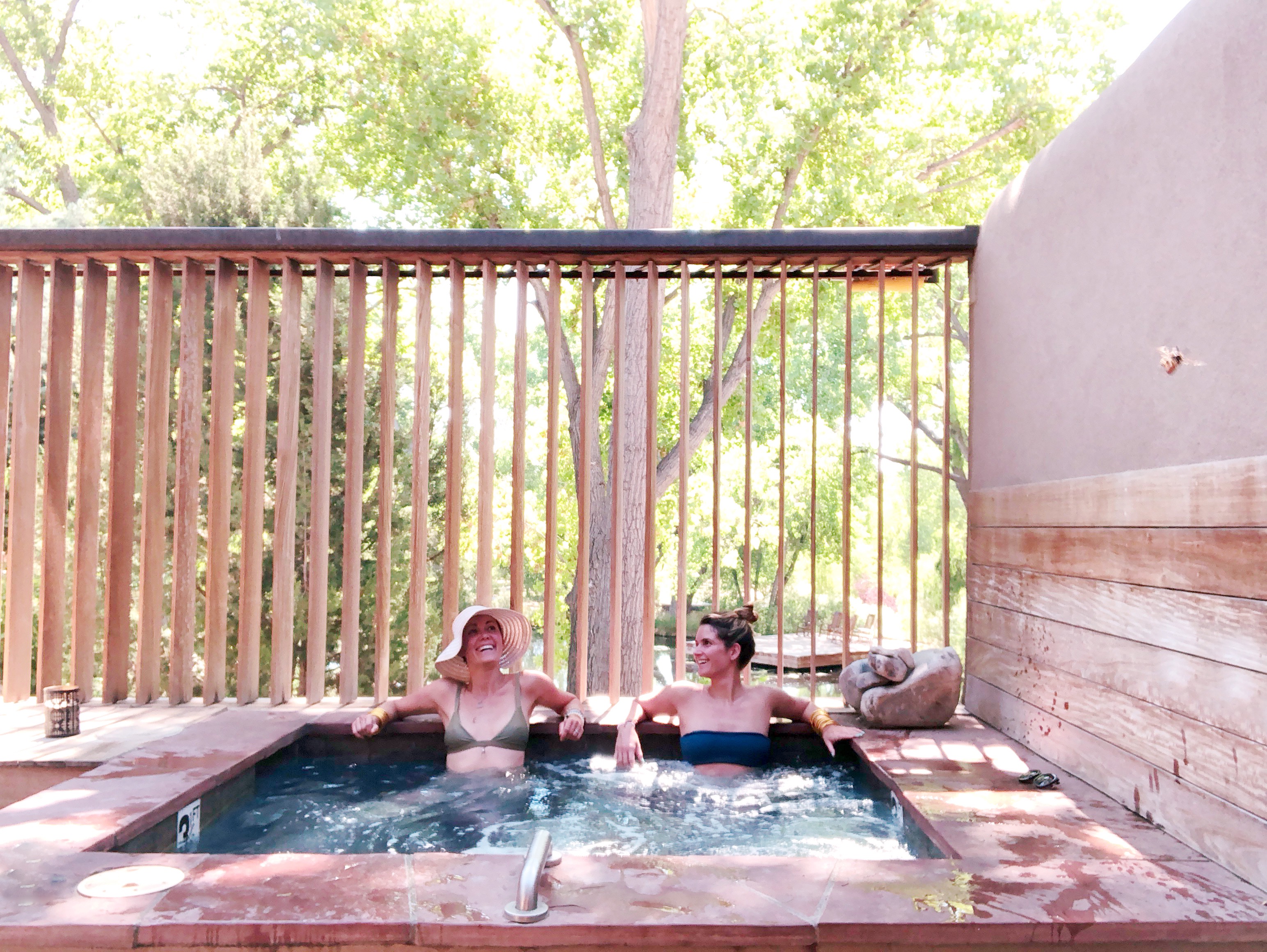 The resort is adults only and would be a great getaway for a girls friend trip or for couples and really is an incredibly magical place to getaway and connect to yourself in a deeper way, experience healing and go home feeling extremely elevated! New Mexico in itself is a land where you can feel the magic coursing through your body. There is so much energy available to be received!
If you go, try the hibiscus iced tea and say hi to Chef Rocky and Bri at the front for us!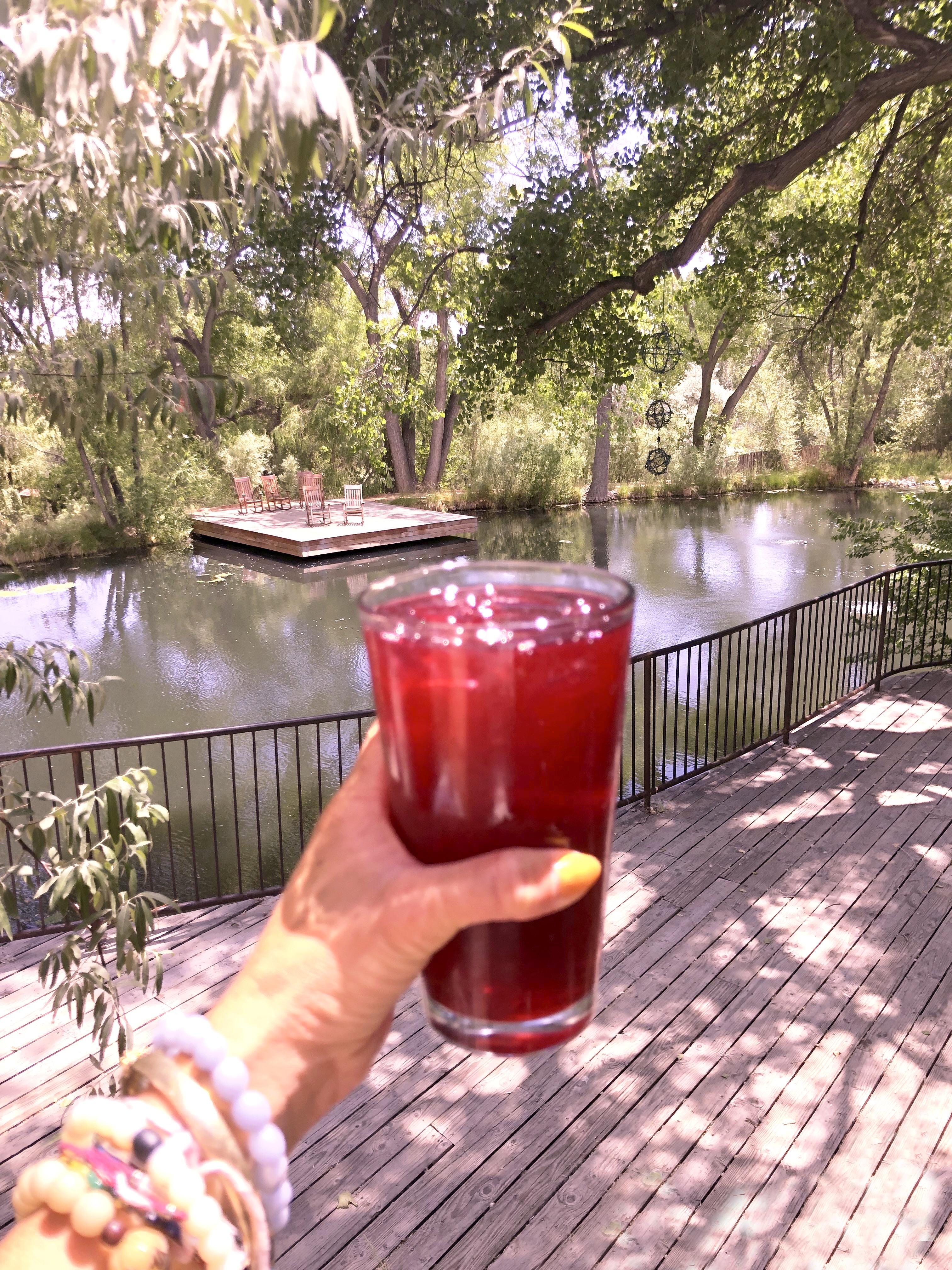 If you are interested in our retreat or have any questions comment below.