Level One: Tools for Rising Up
AKA - An Introduction to your high vibe spiritual practice
Getting started is often the hardest part of any journey. In this first lesson we will give you the essential tools for living a high vibe life. You will be welcomed to the Rise Up Facebook Community, introduced to subconscious clearing practices, and given the exact growth game plan you need to stay consistent and committed to your 8-week journey. (Easy to follow videos and thought-provoking "soul work" are included in this lesson and all lessons!)
---
Level Two: Raise Your Vibes
AKA - How to master your mind for good vibes all the time
MMembers have often said this is their favorite lesson in the wholee RISE UP Course. We aren't surprised. Having a limited mindset is often one of the biggest obstacles to self-mastery. In this lesson we will show you the spiritual practices you need to shift and elevate your mindset immediately.
---
Level Three: Recharging Yourself
AKA - A spiritual self-care plan for ambitious women
Most women secretly view self-care as a selfish act. However, that couldn't be farther from the truth. You can't fill up another's glass if your glass is empty. In this lesson we will show you how you can reconnect and recharge your spirit, so you are ready to receive, give and live at a completely new level.
---
Level Four: 99% Happier
AKA - Stress Management for Happy High Vibe Days
Life happens. You lose your job. You get divorced. Your loved one passes away. Or maybe you simply get trapped in the day-to-day hustle of emails, meetings and to-dos. Stress is something we all have in our life. It's part of living in our modern world today. It's not going away anytime soon. But not to worry, in this lesson we will give you tips, tricks and spiritual practices that can help you rise above even the most overwhelming or heartbreaking circumstances.
---
Level Five: The Divine Download
AKA - How to sage your subconscious and make space for the divine
Our modern world is filled with energy vampires. Just think about it. Our days are often filled and fueled with a hormone induced food supply, information overload, distracting social media and toxins in our water, air and on the walls of our homes. In this lesson we will reveal several ways you can cleanse your subconscious and your physical space, so you can start receiving divine downloads from the universe.
---
Level Six: Manifesting Miracles
AKA - An inspired guide to manifesting the "impossible"
So many people believe manifesting is just goal setting, journaling, creating dream boards or chanting until your head feels like it's going to spin off. But, manifesting is an art and science. In this lesson we will teach you why manifesting hasn't worked for you in the past and how to remove BLOCKS so you can manifest anything you want. Let us show you how to manifest and take inspired action.
---
(NEW) Level Seven: Protecting Your Energy
AKA - How to protect your spiritual wifi
As you raise your vibration, open your chakras and connect to the infinite energy of the universe, it's important to learn how to protect your energy. In this lesson we will teach you how to make sure you don't pick up other people's energy or give yours away. We will show you how you can maintain your high vibes no matter what's happening around you.
---
(NEW) Level Eight: Service + Giving Back
AKA: How to become a Lightworker
You don't have to be a yoga teacher to heal the world. Anyone, in any profession anyone where in the world can make an impact on the world. When we both started our spiritual journey, we learned that we could be of service to the world by simply healing our own stuff. How? When you vibrate higher, it naturally raises the vibrations of those around you. When you have strong spiritual wifi, you can share it with others… In this module we will show you how you can find your inner Lightworker and help elevate the consciousness of the globe.
---
Here is what is included:
8 Full Length Kundalini Yoga Classes (given to you in (8) 60-minute videos) filled with Kundalini moves to align + balance each chakra.
8 Soul Work Journal Prompts designed to help you clear your subconscious, adjust your point of attraction, and create a plan so you can take inspired action and make your dream goals a reality.
Magic Morning Ritual 15 Min Video (New Warm Ups + Video Each Week) to sage your soul, so you can start every day with high vibes.
Bedtime Ritual Video- Kundalini Bedtime Ritual with Yogi Bhajan's Prescription
3 Live Group Coaching Sessions with Britt + Tara.
3 Kundalini 15-20 Min HIIT Workouts- High Intensity + More Physical Kundalini Practices
Spiritual Guidance Module Videos- 2-5 Module Videos Each Week Explaining Spiritual Concepts to Apply in your life
Lifetime access to the RISE UP community via a private Facebook page (priceless!)
Register by April 27th to lock in these bonuses worth over $3,000:
40 Day Meditation Challenge Audio Meditations
AFFIRMATION + MANIFESTING eBook. The 30+ most powerful affirmations (for money, relationships, and happiness) and a guide to creating your own affirmations.
Lifetime Access of Raise Your Vibration Challenge
Expert Guest Qi Gong Bedtime Routine from Renee and Lulu of Energy Tribe
Expert Guest Goal Setting Training from Goal Coach Lauren Bragg's of @wellnessvixen
Elizabeth Lim chef extraordinaire of @kale.and.coconuts has added 17 amazing recipes to our meal plan- even more vegan recipes, anti- inflammatory, energizing, high vibe yogic recipes
---
More About our Bonuses:
AFFIRMATION + MANIFESTING eBook. The 30+ most powerful affirmations (for money, relationships, and happiness) and a guide to creating your own affirmations. High level manifesting strategies to allow you to fulfill your purpose and attract your dreams into your life quickly! Learn the exact strategy that Britt used to manifest her dream home and 3-hour pain free birth + what Tara used to manifest her move to Santa Monica.
Plus... Joining the Facebook Community: Access to the 2018 Rise Up FB Group for Additional Support, Wisdom and Love!
Plus.. A meal plan that includes delicious recipes and an easy to follow shopping list to help you start your high vibe, plant-rich, anti-inflammatory, superfood diet. Elizabeth Lim chef extraordinaire of Kale and Coconuts has added 15+ amazing recipes to our meal plan and we've added NEW Yogic Ayurvedic Recipes!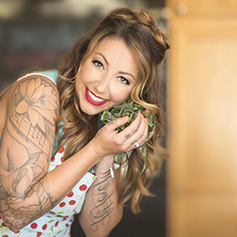 BONUS: Goal Coach Lauren Bragg Goal Setting video workshop to set yourself up for success during this course, make sure you follow through, and keep you on track. She is our goal coach and has changed everything for us and allowed us to hit all of our goals.