And….this is all you need to get started to lay an amazing foundation to bring Kundalini yoga and meditation into your life.
You will get access to all of this instantly and can get started right away experiencing all the bliss this ancient practice has to offer.
✓ Full Length Kundalini + Meditation Class Video
✓ Intro Video for the collection
✓ Why we Practice Kundalini and Why Now is the time Video
✓ History of Kundalini Video
✓ What, Why, How Kundalini Video
✓ What to expect (everything you need to know about practicing and going to class) Video
✓ Mudras (hand placement) Video
✓ Mini Mantras + Music E-Book (BONUS!) + itunes playlist link
✓ PLUS a BONUS Kundalini Stress Release Audio Meditation to use as a morning practice or to wash away the stress of your day (3 and 11 minute versions)
We can't wait to see your "show ups" (when you show up for yourself with yoga, meditation + mantra) after you watch these videos and try the Kundalini Yoga + Meditation Class!!! We'll be looking out for your pics! Tag us on instgram @elevatetheglobe and #kundaliniblissed
Get it all for $77!!
That's less than a yoga workshop and you get lifetime access, plus so much more!
Get the Collection

"I cannot even express how much I enjoyed the Kundalini yoga class and how powerful it was for me!! It seriously brought me to this place that I have been wanting to/trying to get to for a very long time. Britt + Tara have the most radiant energy of anyone I have ever met, and I cannot thank you enough for creating such an inviting and safe place to allow me to really experience Kundalini." - Elizabeth Lim @kale.and.coconuts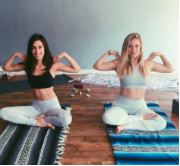 "Britt & Tara are the real deal, you guys. From the kundalini session itself to the kriyas, mantras, soulful conversation, and post-session chat about our spirit guides (Tara saw them, yes, she's an intuitive goddess human), Jill and I got so much out of the experience. My hugest takeaway was that I was FLOODED (I mean, BEYOND flooded) with creative stimulation and massive inspiration during the session. I was also fighting off tears and huge waves of emotion which wasn't entirely shocking to me, because I know what I need to work through that's been sitting on my mind for months (okay, years, but I digress)." - Jordan Younger,
The Balanced Blonde