AWAKEN, CONNECT, ELEVATE, AND TRANSFORM
YOURSELF ON THIS 4-DAY YOGIC ENERGETIC
WEEKEND WITH ELEVATE THE GLOBE!
Begin to imagine how open, expansive and recharged you could feel after four days of physical, energetic, mental and spiritual cleansing within the serenity and power of the Joshua Tree desert landscape.
Together, under the shimmering desert sky, we will come together on August 26th shortly after the Aquarius Full Moon and call in powerful manifestations for ourselves and Planet Earth.
During this magical weekend the Sun will be in Virgo, the grounded, no-nonsense Earth sign making it a time where we're being showered with a steadfast, practical energy and it's available for us to integrate into our lives and make use of. It's time to make things happen, create efficiencies in your life, and all with the intention of being of service to humanity.
We will use the ancient technology of Kundalini Yoga, breathwork and meditation to awaken the healer within and connect to our authentic selves.
"Wow! That is the word that comes to mind when I think of my time at the Joshua Tree retreat. I walked in Thursday with a lot of nervous energy. I left on Sunday feeling like I have a ton of new friendships. I loved every minute of my experience! Thank you Brit and Tara, you ladies are the best! From the classes, the amazing food, and the ladies, no details were missed. I love this cohort of ladies and I hope we can recreate that magic every year together."- Jennifer J. (2019 Retreat Guest)
During The Elevated Camp: Joshua Tree, we will together merge into this magnetic Virgo energy to blast open our third eye, strengthen our nervous systems, enter into our subconscious minds, and connect with the higher aspects of ourselves, shed light on our limits, and begin to heal parts of ourselves that keep us from taking the conscious steps to manifesting our limitless lives.
We will experience the beauty and power of the 18 known Vortices (areas of heightened spiraling energy) on the land of the Institute of Mentalphysics in Joshua Tree where energy heightens, intensifies and expands. We will practice Kundalini yoga and raising our vibration together within one of these vortices all weekend, come together as a community to honor ourselves and Mother Earth and all the bliss and abundance life has to offer.
Virgo is ruled by Mercury, the planet of expression and communication. Not only does Mercury have to do with how you are communicating day-to-day, whether that is concisely, freely & openly, professionally, thoughtfully, etc., this planet is also interested in making connections of everything in our lives, it is highly curious and wants to make sense of everything! This weekend we will focus on awakening your inner guidance within you and meeting your subconscious limits to clear the pathway to your highest expression of you.
Dive within and connect to your soul on the deepest level and uplevel your life! You deserve to do this for yourself. It's an undeniable and irreplaceable act of self-love.
There's nothing to fear within or without. AWAKEN your soul power and find your tribe at Elevate The Globe's The Elevated Camp: Joshua Tree!
Sat Nam & Love You,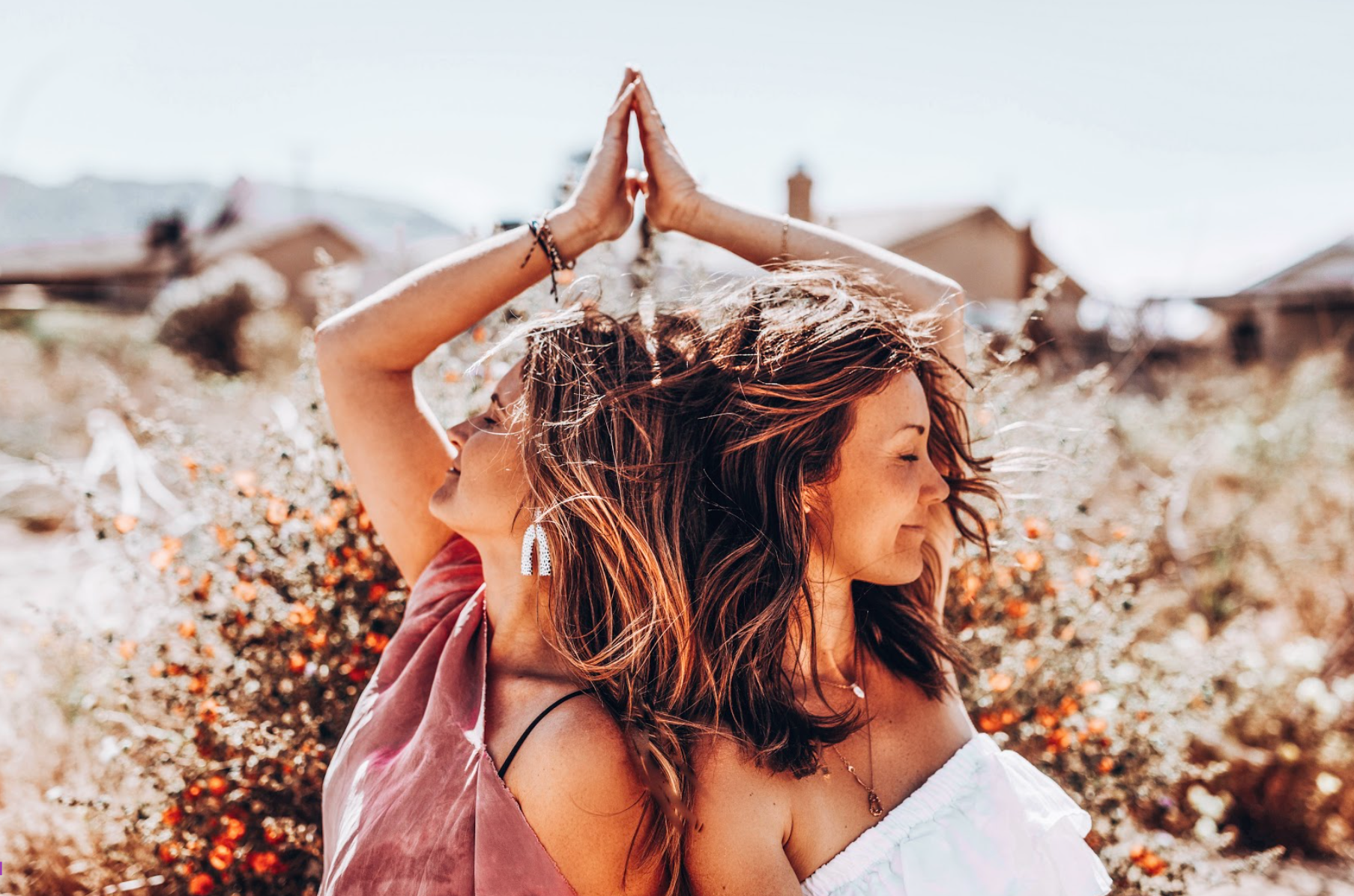 A Glimpse of The Elevated Retreat Joshua Tree 2019:
IF YOU ARE LOOKING TO:
Meditate within and connect with the high frequency vortex energy in Joshua Tree?
Deepen your connection to your divine self, your journey, and your purpose?
Release limitations keeping you from raising the vibration of your energy and aligning with your infinite potential?
Connect with a gorgeous community of light beings and like-minded people to celebrate all the magic life has to offer?
Harmonize with Mother Earth and the planets?
Dive into some deep subconscious cleansing?
Align yourself and work on clearing the path to the highest pathway forward?
Activate the healer and teacher within you?
Get out of your comfort zone, relax, rejuvenate, and recharge mentally, spiritually, physically, and energetically?
Then The Elevated Camp: Joshua Tree was made for you!
I'M IN!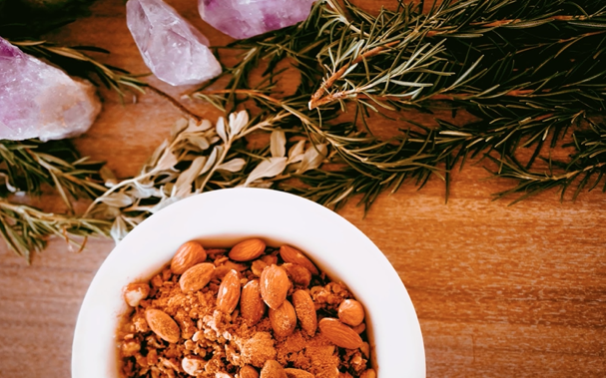 Eat delicious plant-based vegan food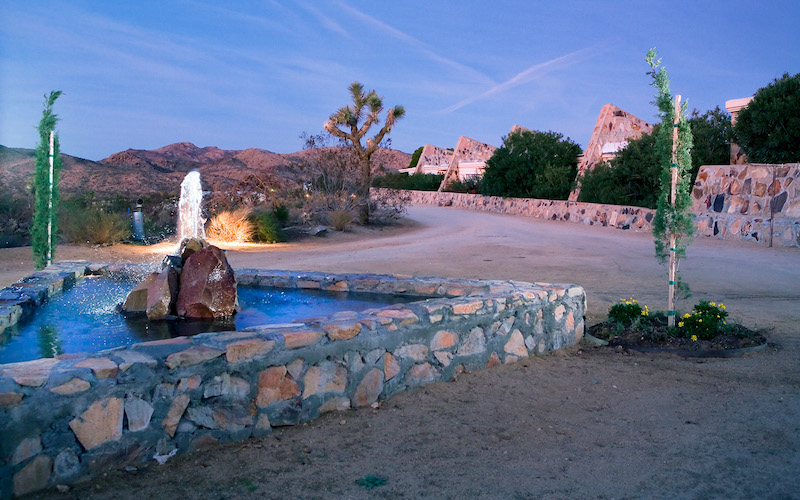 Joshua Tree Retreat Center Institute for Metaphysics
Your Experience Includes:
3 Nights & 4 Days at the Joshua Tree Retreat Center
Kundalini Yoga & Meditation Classes
Workshop Sessions
Journaling, Visualization and Mindset Tools
Early Morning Sadhana Yoga/Meditation Classes
Breakfast, Lunch & Dinner each day (vegan & organic)
Silence Experience
Access to the Pool, Medicine Wheel, The Rose Labyrinth and Om Hill
+ MORE because who knows what our guides are going to tell us to do and what type of energy will come through!!!!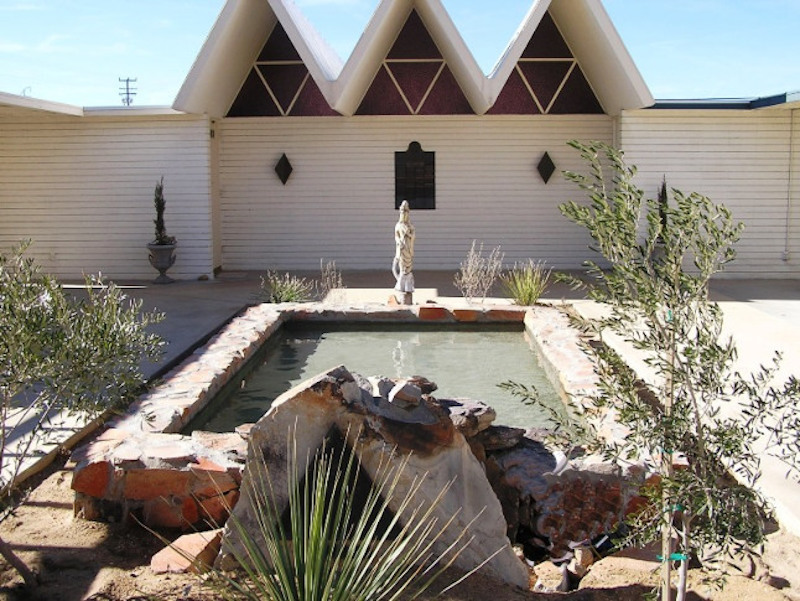 Meditation Building built by Frank Lloyd Wright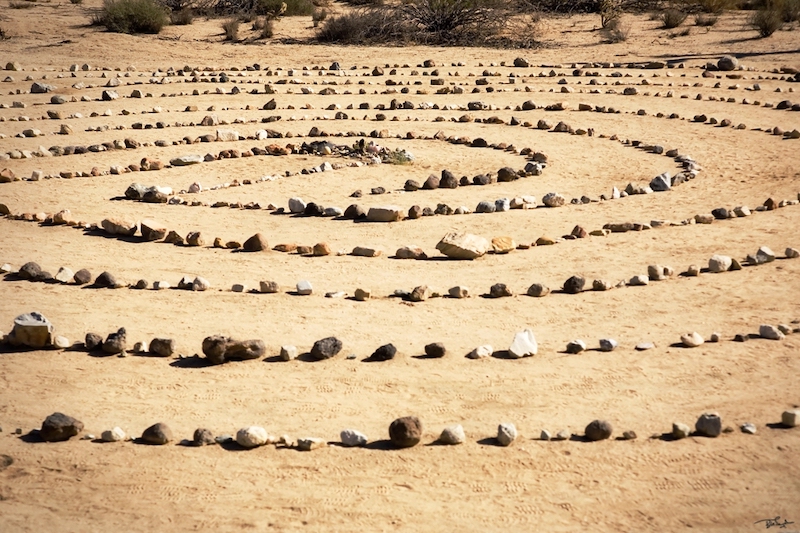 The Rose Labyrinth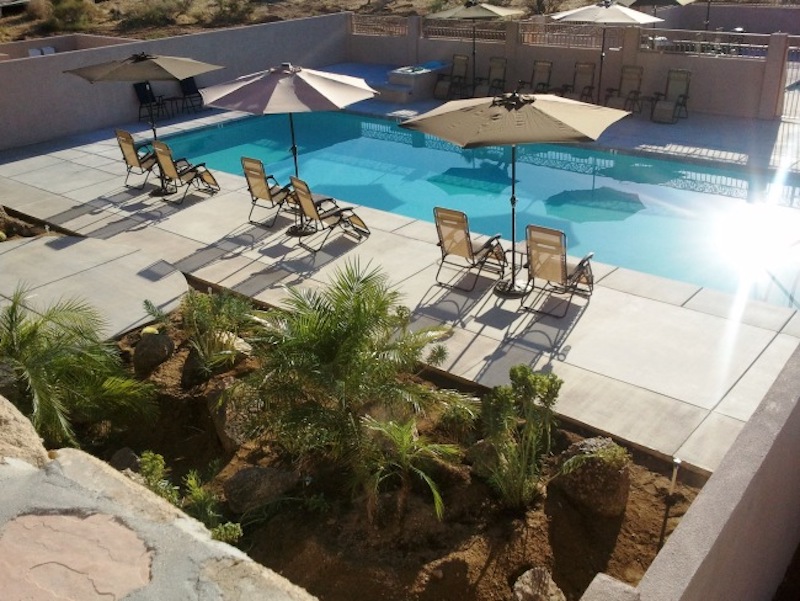 Retreat Center Swimming Pool
SAY NO MORE - I'M READY TO JOIN!
NOW OFFERING: THE ELEVATED CAMP: DIGITAL VERSION
For anyone unable to travel or attend in person, we are offering the opportunity to join the magic of our Elevated Camp: Joshua Tree right from your living room.
We have an epic weekend planned full of Kundalini yoga, meditation, empowering guest workshops and more all to support you in your transformation! Join the ETG FAM for an unforgettable weekend.
Virtual Retreat Details:
August 26-29, 2021
Timezone: Pacific Time
Thursday, August 26th: 4pm - 6pm Welcome Circle and Meditation
Friday, August 27th: 5:30am - 9:30pm
Saturday, August 28th: 6:30am - 9:30pm
Sunday, August 29th: 6:30am - 7:45am
Location: LIVE online via a private link
Please Note: We will have breaks and meals throughout the day. The full schedule will be sent upon registration.
SAMPLE DAY AT ELEVATE THE GLOBE'S THE ELEVATED CAMP: JOSHUA TREE
Early Morning Ritual Sadhana
Free Time - Rest/Sleep, Hike, Read, Journal, Pool, etc.
Breakfast (Vegan) + Free Time (Rest/Sleep, Hike, Read, Journal, Pool, Etc.)
Morning Practice - Kundalini Yoga and meditation designed to uplevel your energy and connection to self
High Vibrational Workshop — Sample Topics: Astrology for Alignment, Manifestation in the Aquarian Age, Fate vs. Destiny, Walk the Labyrinth
Lunch (vegan) + free time (Rest/Sleep, Pool, Walk, Hike, Read, Journal, etc.)
Evening Practice - Kundalini meditation or breathwork class
Community Circle - Connect and share with an incredible and supportive group of like-minded spirits
Dinner (Vegan)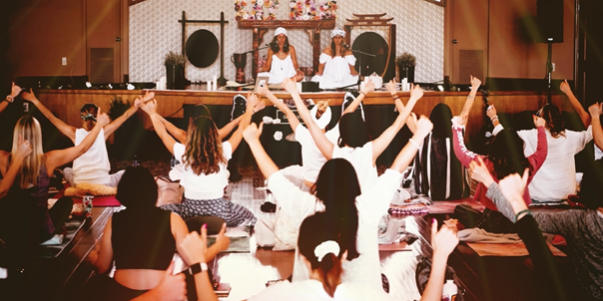 Elevate and Expand ETG Style

THE VENUE
Joshua Tree Retreat Center : Institute of Mentalphysics
JTRC is the oldest and largest retreat centers in the Western United States. It is an architectural landmark on a sacred piece of land in Joshua Tree, CA. Experience and magnetize with Mother Earth as you experience true nature with us. The Retreat Center has 18 known Vortices on the property that provide incredible POWER to help expand and heal the sacred experience.
This place is pure MAGIC that offers amazing outdoor and indoor spaces for meditation, yoga, community, beauty and unreal sunrises and sunsets. Come experience and take part in The Rose Labyrinth, Medicine Wheel, OM Hill, Chalice Well, Outdoor Yoga Pad, Amphitheater, Pool and of course ALL 18 VORTICES!

PRICING:
Virtual Ticket
Pay In Full $197
3 payments of $77
*In case of a government-mandated shutdown or mandate to limit group sizes due to COVID-19, you will receive a credit for the rescheduled event.*
*All spots are final and fully non-refundable if purchased 75 Days Prior to the retreat dates*
Meet Your Hosts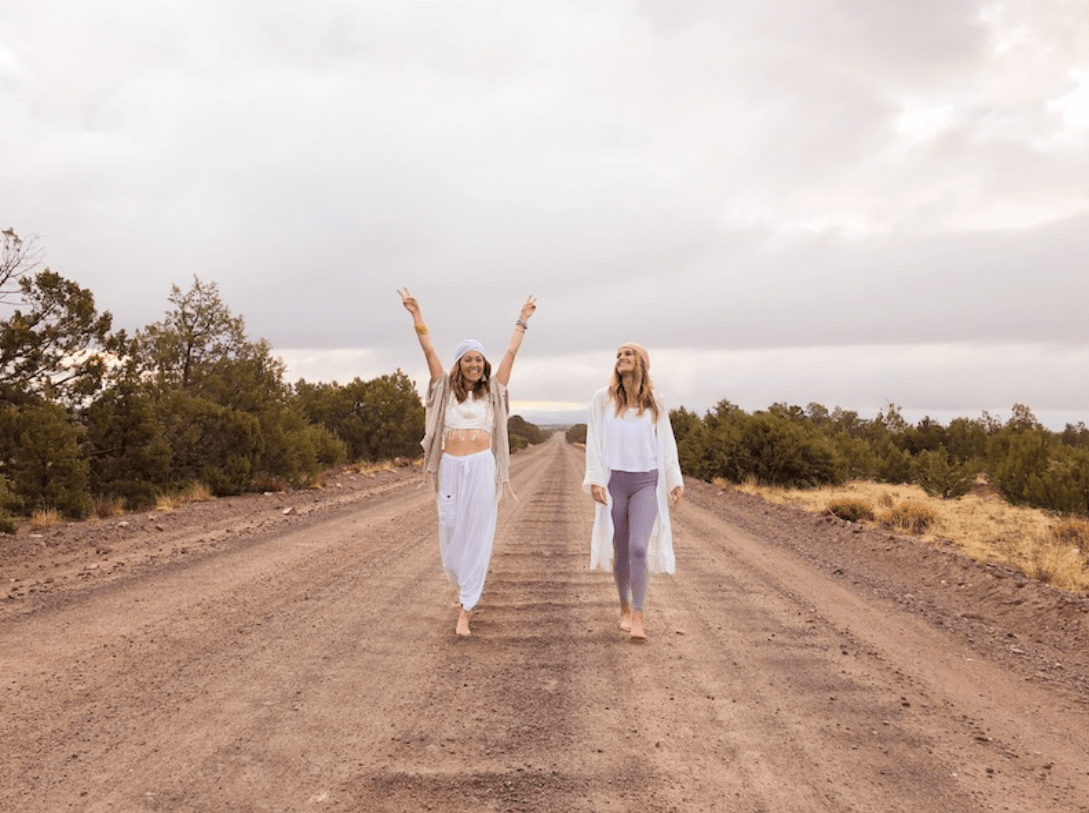 Britt Deanda and Tara Schulenberg are Co-Founders of Elevate the Globe, certified Kundalini yoga and meditation instructors and healers here to raise consciousness on the planet.
They are high vibrational living experts and pair astrology with spirituality, high vibrational living, and sustainability to deliver a cutting edge wellness lifestyle that allows people to align with their own truth and best way of living.
Their classes, events, retreats, courses, and membership community deliver incredibly transformative results and the transmission of energy ignites people from all walks of life to uplevel and step into their power as happy, healthy, and abundant lightworkers elevating the globe.
This retreat is open for Men and Women looking to elevate, connect, cleanse and uplevel their lives!
Questions? Email support@elevatetheglobe.com
What others have to say about The Elevated Camp Joshua Tree:
"The retreat was life changing for me. There were things that I had healed mentally and physically from but they were still holding me back, subconsciously. The meditations helped to clear the remaining junk out. Feeling lighter and brighter." — Jessica H.
"I have been following ETG for over 2 years and I can honestly say I owe most of my "spiritual awakening" to them. I feel weird saying awakening but they opened me up to so much that I genuinely wouldn't know half the things I do without them. I have always been one foot in one foot out until I made the commitment to come to the Sacred Moon Camp Out. I gained the confidence I had lost many years ago. I was able to let go of my limiting beliefs and was given the tools to come home and integrate what I learned to keep this lifestyle up and live my life fully from now on. I came home and immediately started my business account so I can hold myself accountable for my future. Above all of that, the memories and connections I made with the women and men I met were unbelievable! Britt and Tara are so genuine and humble, they truly started this community to elevate the globe and they are doing an amazing job at it! Thank you ladies!" — Sesalee S.
"Going to the Sacred Moon Campout with Elevate The Globe provided a beautiful space for me to pause my very full life with four children and my business, go within, and raise my vibration in preparation for my birthday. The power of getting together to practice, meditate and connect with 50 beautiful women was off the charts. It was wonderful to see we all got what we needed! And it was amazing to be in the presence of Britt and Tara while they played their magic, and guided and inspired us in so many ways. They are now my soul sisters for life!" — Inés A.
"From the moment I came I felt such positive vibes. There was such an amazing balance between cleansing and elevating my joy. I can't thank you enough for this weekend. So many amazing people in one sacred space." — Linda F.
"I've always cried to release energy, but the last couple years I haven't. During the first kriya I had tears running down my face and knew I was in the right place. The energy of the space & everyone there was so powerful, safe & supportive. I felt like I already knew Brit & Tara - the energy online is the same in real life, & both are totally approachable which was refreshing. I loved the labyrinth, the food, & singing in a circle with everyone. Can't wait until the next one!"— Monica D.
"Heading into this retreat I was struggling with severe social anxiety, fear of doing really anything from going out with new friends to taking sharing my voice with others. I had a lot of self doubt and insecurity about myself and my ideas. I really was struggling with insecurity about my acne and constantly covered it up, but going to this retreat I just surrendered and wore no makeup and was my true self in all aspects. It was lovely to connect with a group of women who were all there for different reasons but there for a sense of community and a deeper sense of spirituality. I felt safe in this space and more empowered than I have in a very long time. All of the Meditation, breath-work, and yoga was so transformative I don't even know how to put it into words. Using all of our senses to expand our minds was so powerful. I loved singing, dancing, and just moving all weekend. I can't say enough about this retreat, and I hope to return next year." — Jennifer L.
CAMPOUT STYLE ACCOMMODATIONS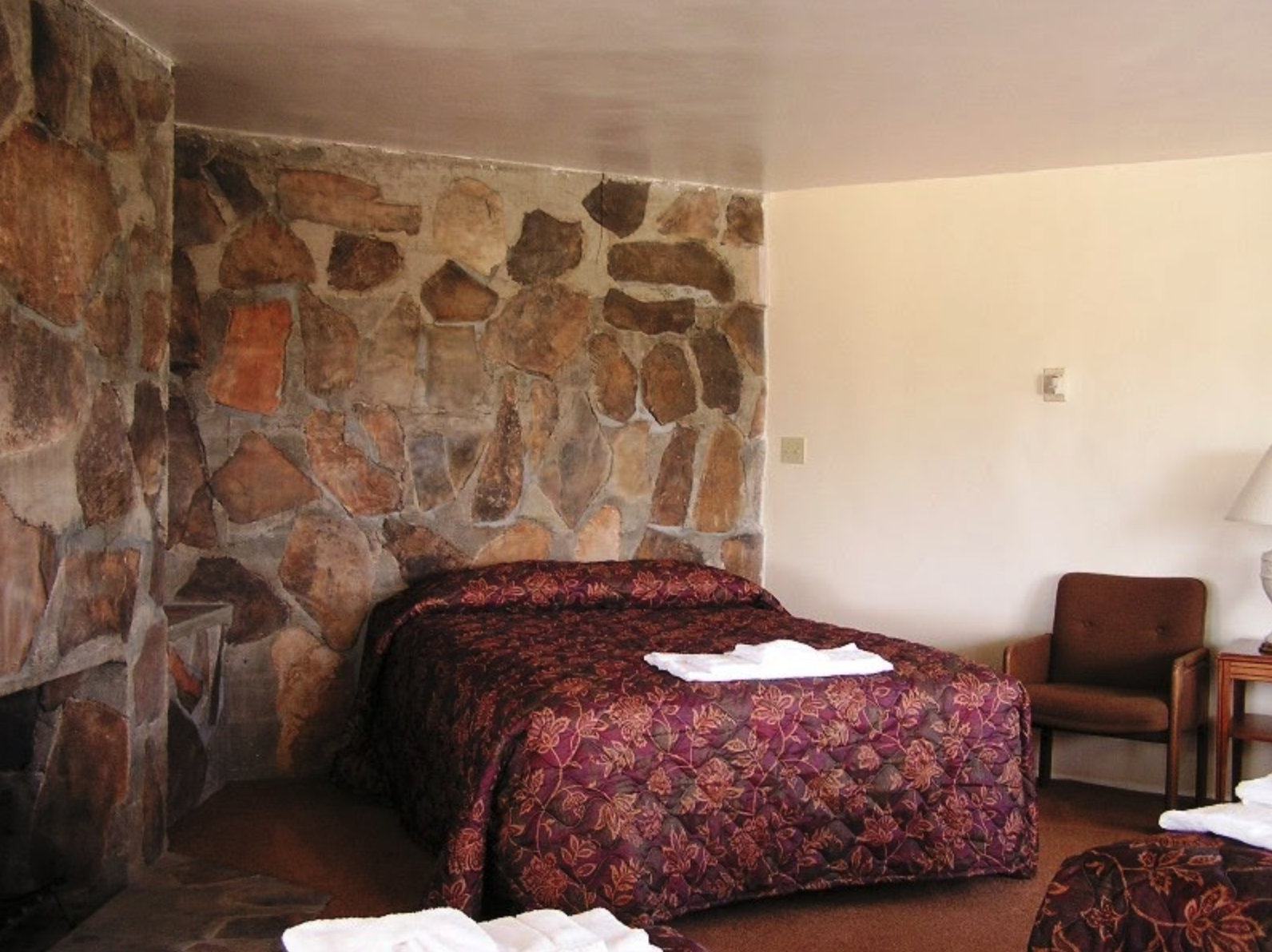 CARAVANSARY ROOMS
The apartments sleep up to 3 people and have shared communal bathrooms adjoining another room. The apartment accommodations vary. Most rooms have a beautiful natural stone wall, and private baths.
COMMUNITY APARTMENTS - SOLD OUT
The apartments sleep up to 4 people and have shared communal bathrooms adjoining another room. The apartment accommodations vary and some offer the option of a queen bed. The first retreat guests to confirm their spot on the retreat and request a queen bed will have first priority.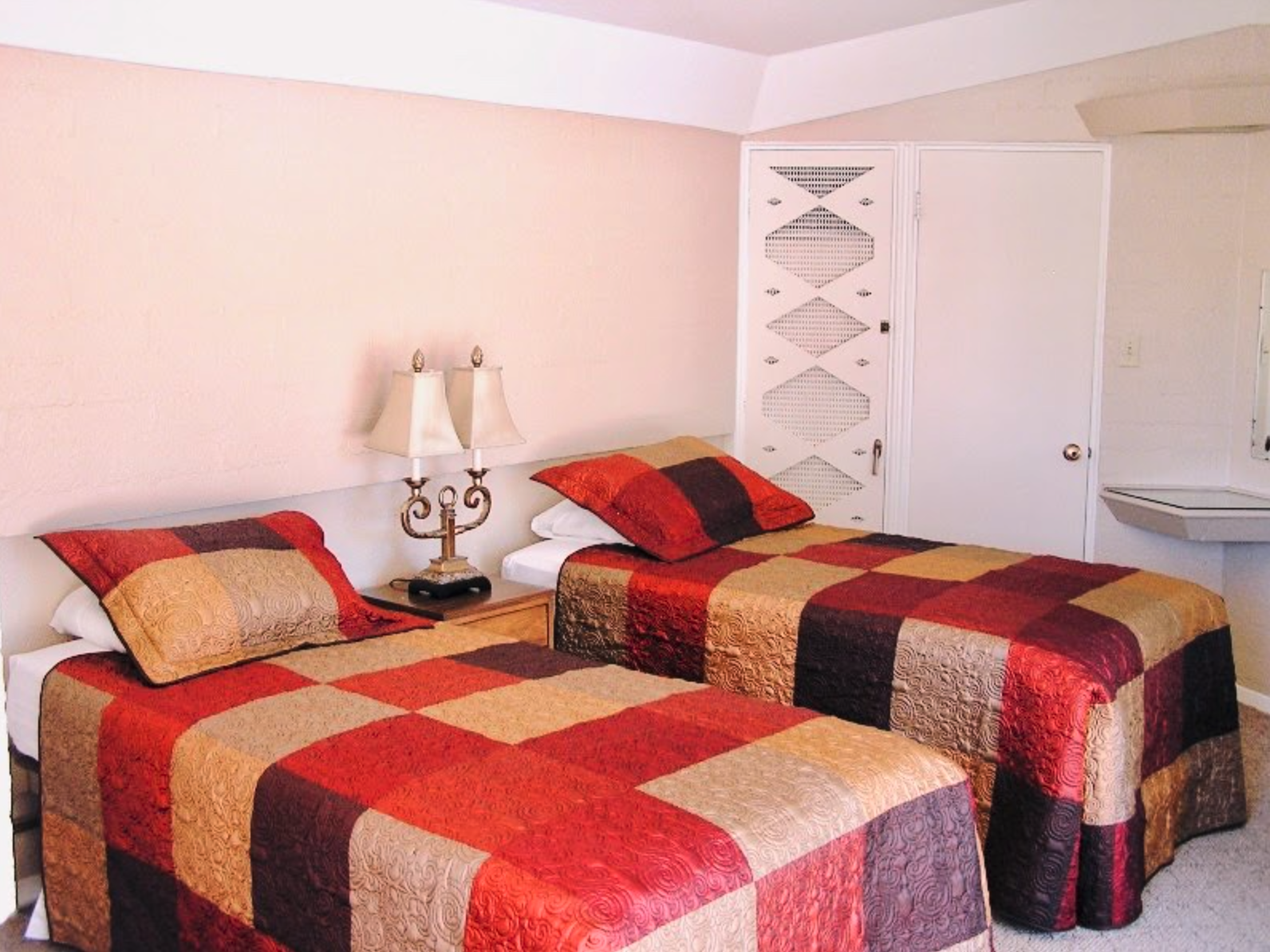 RIDGE COTTAGES
The option to sleep by yourself. Each room has two twin beds and a bathroom.

HOW TO GET THERE
JTRC is 45 minutes from Palm Springs International Airport, 1½ hours from Ontario Airport, 1 ¾ hours from Orange County International Airport and 2 hours from Los Angeles.
GPS Coordinates - View Web Map
N34• 8' 6"
W 116• 21' 40"
From Los Angeles:
10 Freeway East for approximately 100 miles to Exit 117 onto CA 62 East (29 Palms Highway) for approximately 25 miles and the Center will be on your left. When you see the "Welcome to Joshua Tree" sign, you are seconds away. There is a large rust-colored metal sculpture and a sign at the entrance on your left. If you reach downtown Joshua Tree, you have gone too far.
From San Diego:
215 North to 60 East (Exit 29) to 10 East (Exit on the Left) go approximately 22 miles to Exit 117 onto CA 62 East (29 Palms Highway) for approximately 25 miles and the Center will be on your left. When you see the "Welcome to Joshua Tree" sign, you are seconds away. There is a large rust-colored metal sculpture and a blue sign at the entrance on your left. If you reach downtown Joshua Tree, you have gone too far.
WE WILL BE HELPING TO ORGANIZE CARPOOL OPPORTUNITIES AMONG GUESTS FROM LA UPON REQUEST - WILL NOT PROVIDE GROUND TRANSPORTATION
Frequently Asked Questions
WHEN AND WHERE IS ELEVATE THE GLOBE'S THE ELEVATED CAMP: JOSHUA TREE?
Elevate The Globe's The Elevated Camp: Joshua Tree is the weekend of Thursday, August 26 through Sunday, August 29, 2021 in Joshua Tree, California. The retreat will take place at the Joshua Retreat Center Institute of Mentalphysics.
WHEN IS CHECK IN AND CHECK OUT?
Check in is on Thursday, August 26th at 3pm. Check out is on Sunday, August 29th at 9am.
WHAT'S THE DIFFERENCE BETWEEN SHARED COTTAGES AND COMMUNITY APARTMENTS?
Shared Cottages have two twin sized beds and a shared bathroom. The Community Apartments have at least 4 twin sized beds (some with a queen size bed as well) and a communal bathroom.
WILL THERE BE FOOD?
Yes — breakfast, lunch and dinner. All food will be vegan, plant-based. If you have food allergies please let us know via support@elevatetheglobe.com upon signing up.
WHAT SHOULD I PACK?
Comfortable clothes for Yoga, Meditation and Movement
Ceremonial Outfits (something you feel beautiful in that you can also do movement in)
Outfit to wear as your favorite Major Arcana Archetype from the Tarot
Closed toed shoes for hiking around the retreat center (optional)
Yoga mat, Faux Sheepskin + Meditation Cushion
Your own bedding, sheets and pillow (optional)
Water bottle
Personal crystals
Journal + pen
WHAT IS YOUR CANCELLATION POLICY?
We understand that sometimes life throws us unforeseen situations. Elevate the Globe's refund policy on retreats is that Guests must cancel more than 75 days in advance of the retreat start date for a full refund, minus the non-refundable deposit of $100 for both Pay In Full and Payment Plan options. If you book less than 75 days in advance of the trip, your payment is non-refundable.
Please view the Terms & Conditions Here to Participate in the The Elevated Camp: Joshua Tree Retreat.
CAN I REQUEST A ROOMMATE?
If you are traveling with a friend and want to share a room, please email support@elevatetheglobe.com upon registration. If you are traveling solo and would like to book a Shared Cottage room we will match you with a roommate.
WILL I NEED TO SIGN A WAIVER?
For everyone's safety we will ask that you provide a signed waiver, which we will send to you upon securing your spot. We will need a signed wavier from you (you can view it here) prior to the retreat to participate.